Morristown man attacks cousin with knife, gives fake name to the cops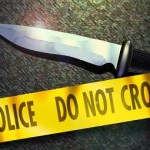 Assault with Deadly Weapon Charges Morris County NJ
Morristown Lawyer Needed for Assault with Weapon Charges NJ
A charge for assault with a deadly weapon in Morris County or anywhere in NJ can have serious consequences including fines, jail time, and permanent felony charges on your record.
A 31-year old Morristown man allegedly attacked his cousin with a knife and then lied to police about his identity in an attempt to avoid responsibility. Around 2 a.m. on Tuesday, officers responded to a report of a man attacked with a knife on Sussex Avenue. The victim has a three-inch gash behind his left ear from an apparent knife wound. According to reports, the victim told police that his cousin had attacked him with a switch blade after he went to his apartment for a couple beers. Police responded to the apartment and obtained the knife with fresh blood on it. The defendant was arrested and gave a fake name to the officers before signing his real name to the arrest paperwork. He was apparently intoxicated.
The defendant was arrested and charged with aggravated assault with a deadly weapon, possession of a weapon for an unlawful purpose, unlawful possession of a weapon, and hindering apprehension. He was being held in the Morris County Correctional Facility in lieu of a $25,000 bail. For additional information, see the NJ.com article entitled, "Man attacks cousin with knife, tries fooling cops, Morristown police say".
Aggravated assault with a deadly weapon in New Jersey is governed by N.J.S.A. 2C:12-1(2) which provides in pertinent part:
§ 2C:12-1. Assault
A person is guilty of aggravated assault if he: (2) Attempts to cause or purposely or knowingly causes bodily injury to another with a deadly weapon;
This is a second degree crime punishable by five (5) to ten (10) years in prison if convicted. Further, this crime is subject to the No Early Release Act (known as "NERA") which requires that the defendant serve 85% of his prison sentence before becoming eligible for parole.
This defendant has multiple 2nd degree charges so he is facing significant jail time. In addition, if he is not a United States citizen, serious felony convictions like this will likely result in his deportation from the country after he finishes serving his prison term.