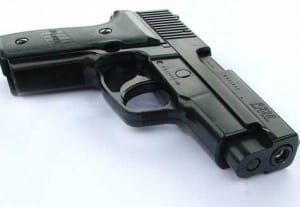 Unlawful possession of a weapon is a serious crime, and if you are facing a gun-related criminal charge, you need the service of an experienced, quality defense attorney as soon as possible.
Due to a variety of laws, including mandatory sentencing minimums, gun possession charges can carry unexpectedly stiff penalties, especially for a felon in possession of a firearm. Don't take gun charges lightly, because without competent legal representation, you may end up with consequences that are far worse than you imagined.
How can an experienced attorney help your gun case? At the Tormey Law Firm, we have experience in all types of illegal gun possession cases, and we have comprehensive strategies concerning how we can attach each and every gun-related charge. Just some of our possibilities include:
Challenging the "consent" of a search. If a gun was discovered in your possession, and the police claim you consented to be searched, we will look at the validity of their claims to find out whether they truly proceeded with consent as defined by the law.
Challenging the legality of a stop or a search. The law dictates how police are supposed to act in their official capacities, but sometimes, even police make mistakes, break the rules or exceed their legal authority. If they did, we can use this to beat your charge.
Challenging bad warrants. Obtaining a warrant is a complicated process with strict legal requirements. Sometimes police make mistakes or cut corners in obtaining a warrant, and we can use that to our advantage.
Plea negotiations and reducing sentence minimums. If your gun charge can't be completely dismissed, we can still work with the prosecutor on reducing the charge and gaining a better outcome. We know that prosecutors want to expedite gun cases to get them over with, and we can often negotiate with them because of this.
As you can see, criminal possession of a weapon charges are serious, but they can be beaten, or reduced under the right circumstances.
While there may be a stiff penalty for felon in possession of a firearm, the Tormey Law Firm can give you your best chance at either beating your gun charge, or getting the best possible outcome. To learn more about how we can help with your gun case, contact us today.