New Jersey Reckless Driving Charges
Criminal Defense Lawyers for Reckless Driving Tickets and DWI in NJ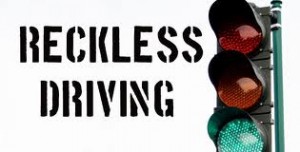 Charges for reckless driving may be issued to anyone who disregards the safety of others while driving in a manner that is likely to put other people or property nearby in danger. As you might expect, the breadth of that definition leads to thousands of reckless driving tickets in New Jersey each year. In many cases, a violation of the New Jersey reckless driving statute, N.J.S.A. 39:4-96, will be accompanied by other charges such as drunk driving (DWI), speeding, or possession of a controlled dangerous substance (CDS) in a motor vehicle. If you have been charged with reckless driving in New Jersey, you are facing suspension of your driver's license, heavy fines, 5 points on your license, and even possible time in jail. In addition, the consequences for reckless driving worsen if you have prior convictions on your driving record. The most important thing you can do now is seek help from an experienced NJ reckless driving defense attorney. The skilled criminal lawyers at The Tormey Law Firm have achieved countless dismissals and downgraded charges for clients accused of reckless driving in Bergen, Morris, Essex, Passaic, Hudson County and throughout New Jersey. For additional information about these violations and how we can fight your charges in court, call us today at (201)-556-1570.
What is Reckless Driving Violation of N.J.S.A. 39:4-96
New Jersey law defines reckless driving as "driving a vehicle heedlessly, in willful or wanton disregard of the rights or safety of others, in a manner so as to endanger, or be likely to endanger, a person or property." In simpler terms, a person drives recklessly if they know, or should know, that the manner in which they are driving is dangerous to the people are property around them, and yet they go ahead with doing it. Reckless driving charges are so common because, similar to charges like disorderly conduct and DWI, it is considered a "you should know better" type of offense.
Punishments for Reckless Driving in New Jersey
The penalties for reckless driving in New Jersey depend on whether you have been convicted of this offense in the past. If it is your first reckless driving offense, you are facing 5 New Jersey Motor Vehicle points on your driver's license, a maximum sentence of 60 days to be served in the jail of the county in which the offense occurred, a fine of up to $200, and potential license suspension for up to 90 days (imposed at the discretion of the judge). If you are convicted of reckless driving for the second time, the potential jail sentence, fines, and period of license suspension increase significantly. A second conviction for reckless driving carries up to 3 months in jail, a maximum fine of $500, and suspension of your driving privileges for up to 6 months.
The imposition of New Jersey Motor Vehicle points on your driver's license alone can negatively impact you for a variety of reasons, from increasing insurance rates, to motor vehicle surcharges, to the eventual suspension of your license if you accumulate between 10 and 12 points over time.
Defending a Reckless Driving Case
Depending on the circumstances of your reckless driving case, you may have multiple defense options available to you. A knowledgeable attorney will first examine the factors surrounding the traffic stop and resulting tickets issued. The goal here is find potential police errors in protocol or violations of your rights that may be used to achieve an outright dismissal. In absence of these conditions, another viable alternative is often to negotiate with the prosecutor to have the reckless driving charge downgraded to a lesser offense, such as careless driving or unsafe driving. Both careless driving and unsafe driving carry significantly reduced penalties when compared to a reckless driving conviction.
If you have been charged with a reckless driving offense, it is best to seek legal counsel from an experienced reckless driving attorney who knows what to look for and how to help you avoid license suspension and other repercussions. Our team has the knowledge and practical experience you need when facing New Jersey charges for reckless driving. As a trusted legal resource, our firm's founder Travis Tormey, has been cited in a number of prominent publications, including The Daily Record, The Bergen Record, and AOL News. He has also been named among the Top 40 Criminal Trial Lawyers in New Jersey by the National Trial Lawyers Association. Our team also includes a former Municipal Prosecutor who used to prosecute reckless driving and DWI cases, which provides the edge we need to craft the most effective defense.
Need a Local Attorney for Reckless Driving in Bergen, Morris, Essex, Passaic County
When facing the long and short-term consequences of being charged with reckless driving, it is imperative to retain a skilled criminal defense attorney who can assist you in getting your charges reduced or dismissed altogether. Contact one of our local offices in Hackensack, Morristown, Newark, Middletown, or New Brunswick now at (201)-556-1570 to find help with your case. We can be reached anytime to answer your questions and discuss possible defense strategies.