NJ Harassment charges – NJ Harassment Penalties – NJ Harassment 2C:33-4 – Harassment Lawyer NJ
Bergen County Harassment Defense Lawyers in East Rutherford, Garfield, Lodi, Lyndhurst NJ
"In New Jersey, harassment is a criminal offense that can leave you with a record. These cases should be handled delicately in order to secure the best possible result."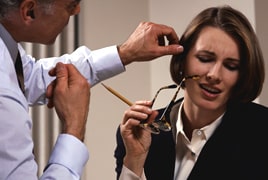 Harassment typically refers to continuing and unwanted communication to another person. It is a charge that can happen to anyone, often arising out of a simple misunderstanding, an argument, or a verbal conflict. Nonetheless, a charge of harassment needs to be taken very seriously; it can lead to jail time and heavy fines.  Hiring an attorney to fight on your behalf might be the only way to avoid these penalties entirely.
The Tormey Law Firm is a team of skilled and aggressive trial lawyers that includes an active New Jersey prosecutor. We have extensive experience handling domestic violence charges, including harassment, stalking, and terroristic threats.
Beyond that, with a prosecutor on staff, we have access to all of the strategies the other side might use against you.  That allows us to be one step ahead of your opponents, and to craft advanced defense strategies that we will use for your defense. Call us for a free consultation, and read on for more information about harassment charges.
Harassment is a criminal offense in New Jersey and it is governed by N.J.S.A. 2C:33-4, which provides that a person may not make communication in offensively coarse language or in any manner likely to cause annoyance or alarm. The harassment law requires the prosecution to prove that a person made the communication with intent to harass the victim.  It's not enough to simply annoy someone, a harassment charge requires that you are intentionally bothering the party at hand.
Additionally, the disturbance must bother the victim to a significant degree. But who can really say what constitutes a "significant" disturbance? Believe me: you do not want to leave your fate in the hands of an overzealous prosecutor who is just itching to charge you so that he can meet his monthly quota of convictions.
Because harassment is usually classified as a petty disorderly persons offense, it can be punishable by a sentence of up to thirty (30) days in jail and a fine of up to $500. The charge can be classified as a fourth degree felony if, at the time of the offense, the offender was on probation or parole. A fourth degree felony charge could result in a sentence of eighteen (18) months in jail.
Call the New Jersey criminal defense lawyers at the Tormey Law Firm for a free consultation about your harassment charge.
We have strong relationships with the court system in New Jersey and we know how to fight your charge.  Our extensive experience allows us to formulate the strategies needed to get a win in the courtroom, and our aim in every case is to win.
Call us today for a free consultation so that we can explore the details of your case and craft a defense that will work for you.
(201) 556-1571
N.J.S.A. 2C:33-4 – Harassment Statute
Except as provided in subsection e., a person commits a petty disorderly persons offense if, with purpose to harass another, he or she:
a. Makes, or causes to be made, a communication or communications anonymously or at extremely inconvenient hours, or in offensively coarse language, or any other manner likely to cause annoyance or alarm;
b. Subjects another to striking, kicking, shoving, or other offensive touching, or threatens to do so; or
c. Engages in any other course of alarming conduct or of repeatedly committed acts with purpose to alarm or seriously annoy such other person.
A communication under subsection a. may be deemed to have been made either at the place where it originated or at the place where it was received.
e. A person commits a crime of the fourth degree if, in committing an offense under this section, he was serving a term of imprisonment or was on parole or probation as the result of a conviction of any indictable offense under the laws of this State, any other state or the United States.
For more information about harassment charges in NJ, Wikipedia is an excellent place to do some research.