Leader of Drug Trafficking Network Charges NJ
"The offense of leading a narcotics trafficking network is a first degree crime punishable by up to life in prison and 25 years of a parole ineligibility. You may also be sentenced to a fine of up to $750,000 or five-times the street value of the drug involved.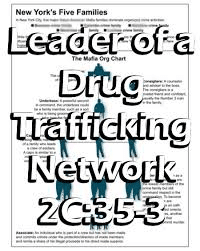 If you have been charged with being the leader of a drug trafficking network in New Jersey, this is a very serious crime and you need a serious criminal defense lawyer. Leading a drug network is explained in New Jersey statute NJSA 2C:35-3, which states that a person commits this offense by conspiring with at least two other people to unlawfully manufacture, distribute, dispense, or transport any Schedule I or II controlled dangerous substance, through financing, organizing, supervising or managing at least one other person. A person convicted of leading a drug network faces life in prison, 25 years of which have no possibility of parole. In other words, this is among the most serious indictable offenses in the New Jersey Criminal Code and having an experienced attorney on your side is imperative if you want to avoid the devastating consequences of a conviction.
Travis Tormey has been representing clients facing criminal charges in New Jersey for the last decade. Having defended clients in such a wide variety of cases, Mr. Tormey has specifically formulated tactics to combat drug charges such as possession of drug paraphernalia, prescription drug offenses, and charges for leading a narcotics trafficking network. The Tormey Law Firm's entire practice concentrates on criminal law, which has facilitated the defense team in developing extensive knowledge about the complexities of criminal defense. Mr. Tormey has been recognized as an authoritative resource and has been featured in a number of prominent publications, including The Daily Record and The Bergen Record, as well as the AOL News. Feel free to contact him at his office at (201) 556-1570, as he provides free legal consultations.
Leader of a Drug Trafficking Network Crime – NJSA 2C:35-3
According to N.J.S.A. 2C:35-3:
A person is the leader of a narcotics trafficking network if he conspires with two or more other persons in a scheme or course of conduct to unlawfully manufacture, distribute, dispense, bring into or transport in this State methamphetamine, lysergic acid diethylamide, phencyclidine, gamma hydroxybutyrate, flunitrazepam or any controlled dangerous substance classified in Schedule I or II, or any controlled substance analog thereof as a financier, or as an organizer, supervisor or manager of at least one other person.
As used in this section, "Financier" means a person who, with the intent to derive a profit, provides money or credit or other thing of value in order to purchase a controlled dangerous substance or an immediate precursor, or otherwise to finance the operations of a drug trafficking network.
It is important to note that in these cases, the prosecution is not required to establish that any intended profit was actually realized in order to prove its case.
Sentencing for Leading a Drug Trafficking Network in NJ
Violations of the above statute are classified as first degree crimes, which are typically punishable by a term of incarceration ranging from 10 to 20 years in New Jersey State Prison. However, if you are convicted of charges for Leading a Narcotics Trafficking Network, the New Jersey Criminal Code stipulates that you should be sentenced to a term of life imprisonment, with a 25-year period of parole ineligibility. Further, sentences for these crimes can include a fine of up to $750,000 or five times the street value of the substance involved.
In addition, these offenses are subject to specific sentencing guidelines known as the "Brimage Guidelines," which eliminate the defense attorney's opportunity to argue for a downward departure at the time of sentencing. This means that a judge cannot reduce the defendant's sentence during the sentencing hearing, regardless of extenuating circumstances that may otherwise warrant such a request.
Arrested for Charge for Leader of Drug Network? Contact Us Now
Leading a Narcotics Trafficking Network is considered among the most egregious of crimes in New Jersey and as such, convictions in these cases can result in some of the most severe of penalties. In order to protect yourself if you have been charged with this offense, it is critical to hire an experienced defense lawyer to serve on your behalf. With Mr. Tormey's tried and tested defense tactics in cases involving drug charges, he is the kind of attorney you want on your side. Contact The Tormey Law Firm, LLC. today to for a free consultation: (201)-556-1571.