Possession of Imitation Firearm Charges
"You may be charged with a serious fourth degree felony offense for possessing an imitation firearm with the intention to use it illegally in New Jersey. This type of weapons crime carries up to 18 months of incarceration."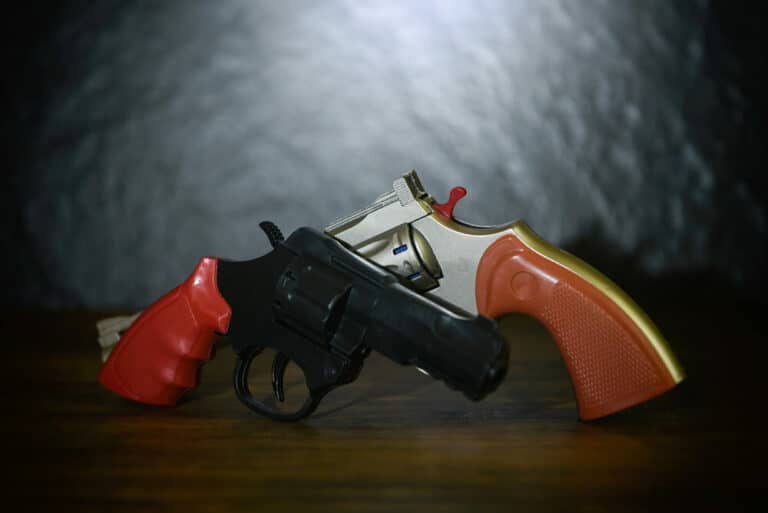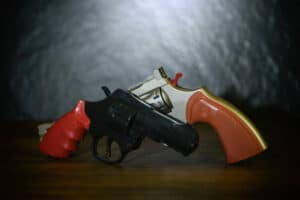 If you like target shooting, playing paintball, or other leisure activities, you may own one or several fake guns, known as imitation firearms. While they may seem like harmless toys, they can still cause severe injury to someone if misused or used for the purposes of committing a crime. That is why New Jersey law requires specific rules and regulations for toy guns and fake guns. Failing to possess and use an imitation firearm properly can result in some of the same penalties as those for other very real weapons. Additionally, using an imitation gun to make others believe you have a real weapon is a severe violation of the law that can cost you your freedom and money. Depending on the accusations, you may face charges for possessing the imitation firearm for an unlawful purpose, as well as other criminal charges for the underlying offense you attempted or intended to commit. In this regard, your defense should be a chief priority in seeking to avoid the severe consequences in your case.
The seasoned defense attorneys at The Tormey Law Firm have successfully handled innumerable weapons cases against clients across the state of New Jersey. Regardless of whether the firearm that led to your arrest was an imitation or an authentic weapon capable of lethal force, you can count on our firm to help defend you. We encourage you to contact us to speak with a lawyer regarding your case in a free consultation. Call (201) 556-1570 for immediate assistance today.
Is it Illegal to Possess an Imitation Firearm in NJ?
The law distinguishes requirements for imitation firearms from other legitimate guns. In essence, a replica or fake gun is not entirely against the law. Nevertheless, these imitation firearms can still lead to arrests and charges when they are used to hurt someone or commit a crime. Unfortunately, New Jersey treats imitation firearms possession for what appears to be unlawful purposes like any other serious crime, prosecuting and punishing these cases with full force. For this reason, it is essential for owners or users of these weapons to know and follow the laws regarding purchase, ownership, and use of them.
Possessing a Fake Gun for Unlawful Purposes
Having an imitation firearm as opposed to a real one is not a crime in every scenario. However, the charges and penalties are very real if you illegally possess an imitation firearm to commit a crime or otherwise further an illegal purpose against someone's person or property. For example, if you use an imitation gun to rob a liquor store or point the gun at someone threatening to shoot them, you could be charged with possession of an imitation firearm for an unlawful purpose. For this offense, a violator faces an 18-month prison sentence and a $10,000.00 fine. The state could also charge you with armed robbery, aggravated assault, or another crime in addition to the imitation firearm charges. Beyond the various penalties associated with the different crime grades, certain violent crimes with imitation firearms fall under the No Early Release Act (NERA). NERA mandates a convicted defendant to serve 85% of a given sentence.
Pointing an Imitation Firearm at Another
Pointing an imitation gun at someone, especially a police officer, can land you in prison. Since imitation firearms often look like handguns or rifles, you can understand why pointing one of these weapons at someone who does not know the gun or rifle does not shoot bullets is a serious crime. Imagine an officer facing the barrel of a realistic fake firearm from a short distance. Their reaction is not likely to ask questions but to respond to a potential threat to their life. Of course, people do not typically own imitation guns to commit crimes or necessarily threaten others' lives. They may not even intend to point a gun at anyone else. However, it is a third degree aggravated assault to point a fake gun at a police officer. This serious crime can be punished by imprisonment for 3 to 5 years in addition to a fine of $15,000.
Carrying Imitation Guns in Educational Environments
Carrying an imitation firearm to specific locations may be a crime as well. You can still go to jail for having a properly permitted fake gun on a school bus or campus at the high school or university where they are typically prohibited. It is a disorderly persons offense to carry an imitation gun on educational grounds, even if you mistakenly brought it to campus. Being a strict liability crime, meaning you do not need the intent to commit the crime to be guilty of a violation, you can be sent to jail for up to 6 months and pay $1,000.00 in fines.
Charged with an Imitation Firearm Offense in NJ? Contact Us
Most people do not realize how strict New Jersey law is regarding weapons of any kind. With so much on the line, your life and liberty, you cannot risk a conviction that can affect the rest of your life. There is help, however. The criminal defense lawyers at The Tormey Law Firm know what it takes to win cases involving imitation gun violations. We understand that an imitation gun crime case can mean a long prison sentence and heavy fines. When it comes to evaluating the facts and evidence, we ask the right questions to determine if the police handled your arrest and investigation correctly or if they even had probable cause to stop you if they found your imitation gun in your car. In examining the facts of your case, we may find the charges against you are overinflated and mistaken in key areas. Our team is also skilled at negotiating favorable plea deals and securing alternatives to conviction like Pre-Trial Intervention.
Based on what happened in your criminal case involving a fake gun, there are many ways that an effective defense approach can make a major difference in what happens to you. Contact our offices now for a free consultation (201) 556-1570.