State Lawmakers Seek to Combat Hazing in New Jersey Colleges & Universities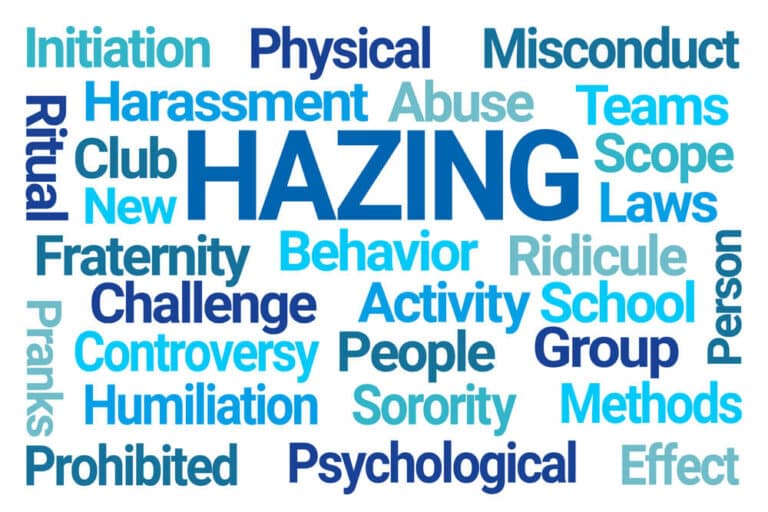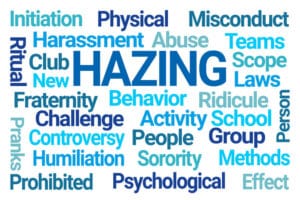 In the last 21 years, 50 students lost their lives due to hazing. A tradition prevalent in Greek life on campuses in New Jersey across the United States, hazing is a ritual that tests inductees wishing to join a fraternity, sorority, or other student organization through the performance of tasks meant to humiliate and physically exhaust the participant. The aim is to see how much physical, emotional, and psychological pain a new member can take. If they can survive the induction ritual, the reasoning behind the tradition goes, they can show they are dedicated to the group while bonding with other members over the experience.
The ritual stems from a long tradition of brotherhood and sisterhood codes of conduct, with each group devising its secret initiation practices. Hazing tasks for initiates include completing near-impossible physical feats, like 100 pushups or drinking incredible amounts of alcohol. Sometimes the ritual consists of sleep deprivation or sexual acts, and all meant to break a new member down and test their allegiance. And yet, New Jersey wants to stop the hazing tradition on college and secondary school campuses.
Anti-Hazing Law in New Jersey
In August, Governor Murphy signed Timothy J. Piazza's law, a bill to punish those who initiate, conduct, or coerce hazing and schools that host hazing.
The bill S84/2093 is named after the Penn State student who lost his life after hitting his head falling drunkenly down the stairs. Excessive drinking was part of a hazing ritual and New Jersey lawmakers heard the pleas of the deceased student's parents. The law punishes those who force others to perform physically, emotionally and psychologically extreme acts that endanger another's life. However, though physically grueling at times, athletics and sports do not qualify as hazing and are expressly excluded from the law's prohibited conduct.
Penalties for New Jersey Hazing Charges
Under the law, a person who encourages, forces, or coaxes another to participate in hazing may be charged with a disorderly persons offense, subjecting them to up to 6 months in jail and $1,000 in fines. In addition, if the hazing ritual resulted in a participant's physical injury, the charge rises to a fourth degree crime. Fourth degree crime convictions may result in 18 months in jail and $10,000.00 in fines. And if someone dies or suffers severe bodily harm, the person accused may be charged with a third degree crime for hazing and potentially spend up to 5 years in prison. Furthermore, individuals, organizations, and schools that promote or tolerate hazing must pay fines of $5,000.00 to $15,000.00 per hazing incident. Finally, the law anticipates a violator's deflection of responsibility by specifically disallowing a defense that the school or organization allowed the hazing to occur.
Who is Given Immunity in Hazing Cases in NJ
The legislators who drafted the bill further anticipated the consequences of punishing hazing. They were careful not to discourage those who attempt to seek help for an injured victim. The anti-hazing law excludes the hazing victim and those who are first to call police to get medical help for the hazing victim and remain on the scene until help arrives. And if police accidentally arrest the victim or good Samaritan caller, the police are exempt from prosecution for the mistake. The law also excludes sports, law enforcement, or military campus contests and competitions.
What NJ Schools, Colleges & Universities are Required to do
The law also includes a mandate that all public and private schools enact and enforce anti-hazing policies, posting them publicly, such as on the school's website. Hence, students and organizers know the school's anti-hazing policy. Likewise, education boards must create and enforce anti-hazing rules and notify their campuses of the consequences of hazing. The notice includes the criminal effects as well as the school consequences for hazing. That may mean the expulsion, probation, or suspension of the student from campus or revocation of the charter for a violating student organization. It may also mean payments of fines and withholding diplomas and transcripts until the violator pays the penalties. Campus organizations refer not only to fraternities and sororities but also school clubs and social groups.
In addition, schools must document each hazing incident with a complete description of what occurred (excluding the personal identities of those involved), any state or federal laws violated by the incident, any school investigation into the incident, and the disposition of the hazing case. Schools must retain all hazing incident reports for five years and post the initial report on the school's website. The law intends that schools lead the anti-hazing effort, calling on them to enforce school rules against the practice. Ultimately, the days of ignoring the tradition spanning thousands of years are over for public and private universities, colleges, high schools, and middle schools.
Anti Hazing Enforcement and Consequences for Young People in NJ
The new law does not take effect until early next year, but the state's law enforcement agencies and officers are already preparing for the campus safety overhaul and may take preemptive steps to prosecute hazing and other crimes on college campuses, in surrounding off-campus housing and in local communities in college towns. The law targets the hazardous student social behavior that many other states outlawed also; however, New Jersey's law is more stringent. In essence, it intends to prevent further reckless or intentional conduct that leads to injury or death, not social clubs, fraternities, or sororities themselves. Organizations with initiation rituals that do not cross the line into bullying, physical violence, dangerous or disorderly conduct, or sexual offenses should survive the new bill's implementation and continue unaffected by its mandates. Nevertheless, New Jersey plans to crack down on those that use the initiation process to inflict harm or endanger another's life, limb, or well-being. College students and organizations may suffer the new and enhanced consequences if hazing accusations are levied and result in criminal prosecution.
Contact a Criminal Defense Attorney if You have been Accused in New Jersey
Suppose your fraternity hazing activity gets you arrested for violating the law and potentially expelled from school. What should you do? You should immediately seek representation from a criminal defense attorney familiar with defending college students facing criminal charges, university discipline, and common allegations against young people across the state of NJ. While your ignorance of the law is not a defense against hazing violations or other charges, this does not mean that one mistake or misunderstanding should cost you your future.
At The Tormey Law Firm, our experienced criminal defense lawyers can show that your stellar college career up to the point of your arrest and your clean criminal record clearly demonstrate that are a promising contributor to society and an otherwise upstanding member of the community. You may be able to get probation or even gain admission into a diversion into a program like Pre-Trial Intervention that ends without a conviction. The costs of a criminal record can carry on for years, so you should seek to avoid one if at all possible.
Contact The Tormey Law Firm if you need defense against charges for simple assault, resisting arrest, heroin possession, underage drinking, DWI, prescription drug charges, disorderly conduct, or another offense. Our seasoned criminal defense lawyers are prepared to help you preserve your reputation and your future, as we have done for countless clients in Bergen County, Morris County, Middlesex County, Passaic County, Essex County, Monmouth County, and throughout the state. Please reach out by calling (201)-556-1570 for a free consultation and immediate assistance with your specific criminal case.