Former Paramus School Employees Take Sex Crimes Case to NJ Supreme Court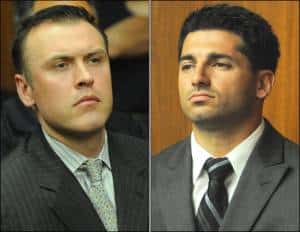 Two defendants who were indicted in Bergen County for sex crimes including sexual assault and endangering the welfare of a child, submitted an appeal to justices at the New Jersey Supreme Court, to whom they presented arguments recently.
This case stems from a 25-count indictment issued against the two men for sexual offenses involving four of the defendants' students that allegedly occurred while the group was on a school trip in Germany.
The two accused, Michael Sumulikoski and Artur Sopel, are former employees of Paramus Catholic High School and were originally charged after the alleged incidents occurred in February of 2011. Sumulikoski was 31 at the time and serving as an assistant football coach and substitute teacher at the school. Sopel, then 28, was employed as the school's vice president of operations. The alleged victims in the case were 17 when the alleged events occurred.
Attorneys for the defendants initially argued for the dismissal of the charges before a New Jersey Appellate Court in June of 2013, at which time the panel ruled that there were grounds to proceed with prosecution in Bergen County. Following the Appellate decision, the defendants took their case to the State Supreme Court, where it is currently being heard.
On Wednesday, September 24th, defense attorneys submitted arguments to dismiss the charges against their clients, based primarily on two elements. The first involves whether the supervisory roles of the defendants apply if no conduct occurred prior to the trip. The second argument is founded upon the legal limitations of territorial jurisdiction, which defense counsel says prohibits the prosecution of defendants in New Jersey for alleged crimes committed outside of the state.
The central question is whether criminal conduct includes the events that precede it, as the defense claims that no planning or conspiracy to commit the alleged acts occurred prior to the supposed events in Germany. Conversely, Deputy Attorney General Brian Uzdavinis and Assistant Bergen County Prosecutor David A. Malfitano argue that the defendants' consent to serve as chaperones for the trip occurred in New Jersey and that the subsequent events may never have taken place had they not made this initial decision.
Notably, Mr. Uzdavinis stated: "what happens in Germany stays in Germany" is "legally indefensible and morally reprehensible." He also claimed that a ruling in favor of the defendants "Would create another chapter in sexual predatory history."
Regardless of the outcome in this case, the determination made by these Supreme Court Justices will set a legal precedent for future cases, spelling significant implications for defendants charged under similar circumstances in the State.
Paramus Sexual Assault Charges Taken to the NJ Supreme Court
For more information regarding this matter, access the following article: N.J. Supreme Court hears arguments in Paramus Catholic sex case