Theft of BMW from Lodi car wash on Route 17 Sunday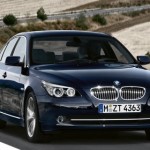 A man stole a 2009 BMW X5 from the Magic Touch Auto Spa on Route 17 in Lodi and got away without incident on Sunday. The car was washed by workers and the thief jumped into the vehicle, pushed the start button, and drove away without anyone noticing. The owner of the vehicle was in the area but did not notice that the vehicle was taken until it was too late.
The suspect was only described as a "dark skinned man". According to the Bergen Record article, "[a]n employee at the BP gas station said that Magic Touch's manager and a police officer came over to the gas station to see if they might be able to gather clues from the station's security cameras about who stole the car."
The workers at the car wash will have to be more careful when leaving a car vacant without properly turning it over to the rightful owner. The owners of vehicles may also want to keep an eye on their cars just in case someone tries to pull something like this again in the future.