Englewood man attacked by dogs and stabbed by their owner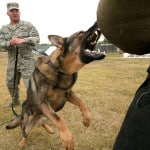 Aggravated Assault, Weapons Charges in Englewood NJ
A local Englewood man was attacked by a neighbor's dogs which led to a fight with the neighbor who stabbed him in the hand, police say. The victim was sitting on his front porch on Shephard Avenue when two dogs owned by a neighbor attacked him. The dog owner was walking them without a leash. This led to an argument where the dog owner stabbed the alleged victim in the hand with a knife. Two Teaneck detectives were in the area and intervened, securing the weapon.
According to the NJ.com article, "Dungey was charged with second-degree aggravated assault, possession of a weapon, possession of a weapon for an unlawful purpose and possession of a weapon by a convicted felon. He was remanded to the Bergen County Jail where he is being held in lieu of $55,000 bail."
The victim was taken to the hospital in an ambulance but his wounds were not serious.
Second degree aggravated assault is. serious felony charge punishable by 5-10 years in prison. In addition, because it is a violent offense, the defendant must serve 85% of his prison sentence before becoming eligible for parole. In this case, the defendant is also facing multiple additional charges for weapons possession which could enhance that prison sentence further. Finally, it appears that the defendant has a prior felony record which is an aggravating factor for sentencing purposes when the judge determines the length of his prison term.
Need Lawyer – Aggravated Assault and Possession of Weapon in Englewood NJ
If you or a loved one has been charged with aggravated assault or weapons possession in Englewood, we can help. Contact our offices now for immediate assistance at 201-556-1570. The initial consultation is always provided free of charge.