2C:33-2. Disorderly Conduct Charges In NJ Defeated
"Alcohol commonly leads to disorderly conduct charges. Depending on how we handle your case, you could have these charges dropped entirely."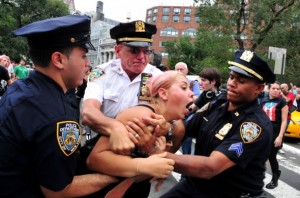 2C:33-2. Disorderly Conduct Defeated
Disorderly conduct is a very broad criminal charge. It can be related to a bar fight, a verbal argument, or failure to obey the instructions of law enforcement officers. It can also be related to "drunk and disorderly" behavior such as public intoxication or urinating in public.  In any event, it could lead to a permanent criminal charge on your record.
The criminal defense lawyers at The Tormey Law Firm handle disorderly conduct on a regular basis.  We have current New Jersey prosecutors on our staff helping us to assess cases from both sides of the court-room, and we have advanced defensed strategies specifically for disorderly conduct cases.  Feel free to keep reading about this disorderly conduct case that we defeated, or watch our video series on how to beat disorderly conduct.  You will also find strategies that work in our Top 5 Ways To Beat A Criminal Charge series.
NJ Disorderly Conduct Defeated
In my experience as a defense attorney, one thing that i can say without a doubt is that alcohol and a bunch of people together is a recipe for criminal offenses, especially "disorderly conduct".
This case occurred in Far Hills, NJ and the horse racing event that most people call "The Hunt.".  This event usually involves 30,000 to 50,000 drunk people partying together and usually getting pretty rowdy.
In summary, disorderly conduct is causing annoying public disturbance, creating a hazard with reckless behavior, or generally being an alarming inconvenience to everyone.  The guy who gets drunk, stumbles around, and starts fights is guilty of disorderly conduct.  Even cursing excessively can be disorderly conduct.  This is obviously not the exact letter of the law… But you can get that elsewhere on this site..
This case was exactly that, a disorderly conduct resulting from public urination at the hunt. My client was a young man with no prior criminal record who was extremely intoxicated at the time of the charge. He took this incident very seriously and took steps to deal with any alcohol issues including an inpatient rehabilitation program.
Based on his lack of prior criminal history, his age (he was very young), his clear remorse and his proactive steps to deal with any alcohol issues, I was able to convince the prosecutor, the judge, and the officer to drop the charges against him. This preserved his clean record.
Sometimes having solid relationships with the prosecutor and judges can go a long way.  Additionally, there are a number of things you can do immediately after your arrest (i.e. rehab programs) that could alter the way that your case is handled.
Please contact my office for more information. (201) 556-1571