Subpoenas in NJ Criminal Law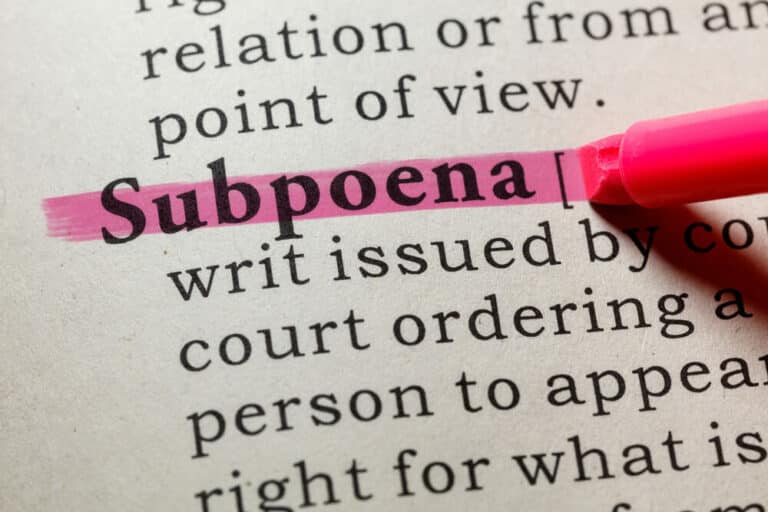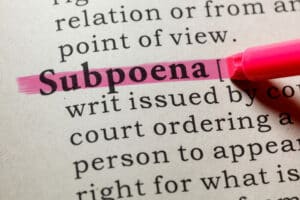 Criminal cases in New Jersey are contests between the state and an accused. The state presents evidence to prove that a defendant or defendants committed the crimes alleged in its complaint. Defendants use evidence to deny the state's charges and to prove their innocence or to show how they are not as blameworthy as the state would portray them. Such evidence as police reports, medical records, forensic evaluations, witness testimony, and other evidence are examples of the proof the prosecution and the defense may use to prove guilt or innocence. Most evidence is obtained by a subpoena, a legal order issued by a judge to appear or produce documents on a specified date and time.
Primary Functions of Subpoenas in Criminal Cases
Subpoena to Appear as a Witness
A subpoena can bring a witness into court to testify at a criminal trial for either side. For example, the state may want an eyewitness to the crime to appear to support their case against a defendant. The subpoena names the witness, identifies the criminal case, and specifies the date, time, and location to appear. Since the subpoena issues from a court, though it may be signed by an attorney or party, the witness must appear as ordered. They may also be required to bring documents listed in the subpoena to the court on the appointed date.
Subpoena to Produce Documents
Aside from compelling the presence of witnesses, either side may subpoena a business or other entity to produce documents it has. Both sides use subpoenas to obtain documents, records, reports, or other physical evidence relevant to the case, such as medical records, police reports, psychiatric evaluations, financial records, or video or camera footage. So, a prosecutor or defense attorney uses a subpoena to compel a store owner to bring its video recording of the storefront and parking lot when a crime occurred in front of the store.
Subpoena for an Expert Witness
Some criminal cases require expert witnesses to testify about pertinent facts and correlations in a case. For instance, a ballistics and firearms expert may be necessary to explain how a gun works and the trajectory of a bullet, confirming whether a gun was fired accidentally or intentionally. The expert may be critical to the prosecution or defense, and the subpoena mandates their presence and testimony.
What is the Subpoena Rule in New Jersey?
In a criminal case, a prosecutor or defendant wishing to subpoena an individual or entity must follow the New Jersey Rules of Court requirements. Rule 1:9 governs subpoenas in New Jersey. Rule 1:9-1 states that the clerk of the court, an attorney, or a party may issue a subpoena, which must include the court name, action title, and names of those directed to appear and give testimony. Moreover, the subpoena must contain the time, place, and type of action, such as a criminal action. The subpoena must be personally served on the individual (given to the person) by someone over 18 years old at least five days before the trial.
Rule 1:9-2 pertains to subpoenas for documentary and electronic information. The subpoena must follow the same rules when an individual designated as the custodian of the records must appear at the trial to verify their authenticity and method of retention or storage or to establish a chain of custody. The subpoena lists the specific documents and other evidence to be produced. A court requires that the subpoena designate when and where the items are to be delivered, for example, at the court by a specific time before trial or before they are to be used in a trial, so the parties and their attorneys can review them.
Failure to Comply with a Criminal Subpoena Has Consequences
A failure to obey a subpoena can lead to a charge for contempt of court. Either party may request the court to compel the witness's appearance or documents designated in the subpoena to come before the court to show why they should not produce what the subpoena required them to produce, be sanctioned, or otherwise punished for disobeying it. N.J.S.A. 2A:32C-14 authorizes a judge to issue a warrant for arrest to bring the disobedient witness to the court on contempt charges. A contempt conviction may result in six months in jail and a $1,000.00 fine.
How can Subpoenas Impact My Criminal Case in NJ?
Subpoenas can make or break a criminal case; they have positive and negative effects. They can help the defense with access to witnesses and evidence supporting innocence. Subpoenas are necessary to compel the testimony of witnesses providing exonerating evidence, which may be the key to the defense. The witness who can credibly testify that the defendant was somewhere else when the crime occurred can mean a not guilty verdict. Likewise, documents that include alibi or other exculpatory materials come to court via a subpoena.
The drawback, however, is the subpoena draws in witnesses that can harm the defense. When a witness's testimony or documents presented to the jury via a subpoena inadvertently hurt a defendant's case, it may be detrimental. Thus, an alibi witness may unintentionally incriminate the defendant for the crime before the jury or another crime. Moreover, subpoenas can cause costly delays and expenses in locating witnesses, paying witness fees, and document production costs.
Let our Criminal Defense Attorneys Assist with Handling Subpoenas in Your Case
When facing criminal charges in New Jersey, the subpoena power cannot be underestimated. With the help of our skilled criminal defense attorneys at The Tormey Law Firm, you can benefit from the fruits of a subpoena and minimize the potential pitfalls. Our seasoned lawyers recognize the potential dangers of subpoenas that can be detrimental to your case and we can also evaluate when and how to use them to the best effect. With decades of experience, we can weigh the potential benefits and risks, ensuring that the subpoena does not harm our defense by discussing with you in detail about possible witnesses and other evidence and conducting independent research and investigation when formulating our strategy.
Subpoenas often cannot be avoided in a New Jersey criminal case. With our defense team, you can use the rest-assured that we will use subpoenas when necessary to present a robust defense, raise doubt in a jury's mind about the prosecution's evidence, and increase the chances of obtaining a not-guilty verdict and a fair result. If you have been arrested and face criminal charges, get in contact with an experienced criminal defense attorney at our firm to discuss the pending case against you and how we can help. If you hire us to represent you, we will outline thoroughly who and what will be used in your defense and obtained by a subpoena. We will also alert you to and weigh the advantages and disadvantages. Contact us for a free consultation with a member of our team at (201)-556-1570 or reach out to us through our easy online form. Let us work for you today.