Undercover Paramus Police Officer Shot During Garfield Drug Transaction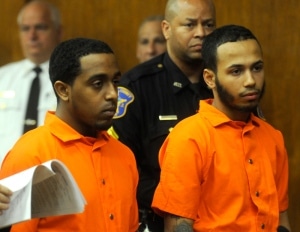 A recent undercover drug operation in Garfield has led to an injured Paramus Police Officer, charges including attempted murder and first-degree robbery filed against three defendants, and an active discussion among law enforcement about undercover drug investigations.
According to Bergen County Prosecutor John L. Molinelli, 21-year-old Clifton resident Patrick Morel, 19-year-old Garfield resident Melvin Guzman, and 25-year-old Passaic resident Rafael Angel Vasquez are facing charges in connection with a drug deal involving an undercover Paramus Police Officer, which took place on Tuesday, April 22nd in a parking lot located on Passaic Street in Garfield. The officer, whose identity remains undisclosed, was reportedly shot in the hip as well as the lower leg during the transaction, which involved approximately $400 worth of marijuana.
The incident was a part of a coordinated investigation conducted by detectives from the Bergen County Prosecutor's Office's Narcotics Task Force, officers from the Paramus Police Department, and members of the Bergen County Sheriff's Office. The officer who was shot during the transaction is reportedly expected to make a full recovery following surgery at Hackensack University Medical Center.
All three of the defendants have been charged with first-degree robbery, second-degree aggravated assault, second-degree unlawful possession of a weapon, and second-degree possession of a weapon for an unlawful purpose. In addition, Vasquez is facing charges for first-degree attempted murder and a second-degree certain persons offense, as he is a convicted felon who is not permitted to possess a firearm under New Jersey law.
Both Morel and Guzman appeared before Judge Edward A. Jerejian in the Bergen County Superior Court on Wednesday, April 23rd, at which time Morel submitted a plea of "not guilty." Guzman, on the other hand, appeared without an attorney and did not submit a plea. According to reports, many police officers attended the defendants' first court appearances. Further, the State Attorney General's Office is now overseeing the case because a police weapon was discharged during the event.
Of the three defendants in this case, Vasquez is facing the most serious charges for attempted murder. Per state documents, he has an extensive criminal record, having served at least two terms of imprisonment in the past. Vasquez was previously charged with attempted murder in Paterson in 2011; however these charges were ultimately downgraded to aggravated assault, to which he pleaded guilty. His criminal history also includes charges for receiving stolen property, robbery, hindering apprehension or prosecution, resisting arrest, and trespassing.
Vasquez, who was shot in the left arm and left leg after allegedly shooting the officer during the April 22nd incident, remains hospitalized at St. Joseph's Medical Center in Paterson. As such, his first appearance has yet to be scheduled; however, his bail has been set at $2 million. Guzman and Morel are currently being held at the Bergen County Jail, with bails set in the amount of $750,000 each.
For more information regarding this case, access the following article: Suspects in Garfield shooting of Paramus police officer make first court appearance