Two Face Charges After Shooting of Hackensack Business Man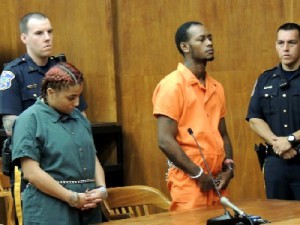 Two defendants recently appeared in Bergen County Superior Court to face a myriad of charges, including homicide, possession of a weapon for an unlawful purpose, and serious drug charges, in connection with a case involving the shooting of a Hackensack business owner.
Newark residents 25-year-old Mujahideen Abdullah and 28-year-old Jomaris Gonzalez appeared before Superior Court Judge Edward A. Jerejian on Monday, July 21st, while a host of the victim's family and friends observed the proceedings. Abdullah is accused of murdering 39-year-old Hackensack resident Jeffrey Mansilla, the owner of a local limousine company, while Gonzalez is accused of hindering the investigation of the case, among other offenses.
According to authorities, Abdullah and Gonzalez followed Mansilla from a club in Belleville to a location on Route 80 in Saddle Brook at 2:00 a.m. on June 12th, at which time Abdullah allegedly shot Mansilla through the driver's side door of his vehicle. The victim sustained a gunshot wound to the hip and was later declared deceased at Hackensack University Medical Center.
Following a six-week investigation, Abdullah and Gonzalez were arrested on Thursday, July 17th. Officials have yet to reveal the suspected motive for the shooting. However, Abdullah is now facing charges for homicide, possession of a weapon for an unlawful purpose, maintaining or operating a drug production facility, as well as possession of heroin and marijuana. He is currently being held at the Bergen County Jail, with his bail set at $2 million.
Gonzalez has been charged with a variety of offenses including hindering apprehension or prosecution, maintaining or operating a drug production facility, and possession of cocaine, heroin, and marijuana with intent to distribute. She is also being held at the Bergen County Jail in lieu of $250,000 bail.
Both homicide and maintaining or operating a controlled dangerous substance production facility offenses are classified as first degree crimes under the New Jersey Criminal Code. Notably, these charges warrant different penalties, although they are considered crimes of the same degree. Charges for maintaining or operating a drug production facility, codified under N.J.S.A. 2C:35-4, are punishable by a term of incarceration ranging from 10 to 20 years in New Jersey State Prison, as are typical first degree crimes.
Homicide charges, on the other hand, are subject to extended sentencing guidelines under N.J.S.A. 2C:11-3, which governs charges related to these offenses. According to this statute, a murder conviction warrants a prison sentence ranging from 30 years to life, with a minimum 30-year period of parole ineligibility.
Although Abdullah is facing the most serious charges of the two defendants, both have been charged with crimes considered extremely egregious under New Jersey law and could be sentenced to serve significant terms of imprisonment upon conviction.
For more information pertaining to this case, access the following article: 'Rot in hell!' loved one of Hackensack man fatally shot on Route 80 shouts at accused gunman