Sparta woman gets two DWI's in two days, according to police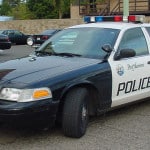 A 35-year-old Sparta woman had a rough week earlier this month: She was charged with two seperate DWI incidents in less than 48 hours. In both cases, her car was impounded but she somehow managed to recover the vehicle, continute drinking, and then receive a second DWI charge. In the second case, she had her severely intoxicated husband with her.
The second incident arose after police were contacted about a potential drunk driver. The telephone caller had provided police with a license plate number of the erratically driven vehicle which was later located in a parking lot at Radio Shack. It was allegedly parked illegally between two handicap parking spaces. The vehicle was still running. Based on statements from the woman and her husband, it was determined that the female had driven the vehicle into the parking lot. Her blood alcohol content was more than twice the legal limit. Her husband, who had also moved the vehicle in the parking lot, had a blood alcohol content of three times the legal limit.
She was charged with driving while intoxicated (DWI), careless driving, possession of an open container of alcohol in a motor vehicle, and alllowing a suspended driver to operate her motor vehicle.
There is an interesting "operation" issue in this case. Police officers did not witness anyone operate the motor vehicle while under the influence of alcohol. Operation is one of the essential elements of a DWI charge. However, they may be able to establish "operation" through the statements (admissions) of the woman and her husband based on who was driving. They could also use the testimony of any lay witnesses who may have seen the woman operating the motor vehicle. These statements and potential testimony could be sufficient to prove the operation of the motor vehicle element of the DWI charge. We'll see.