Police Investigate Possible Arson Incident After Condo Fire in Park Ridge, NJ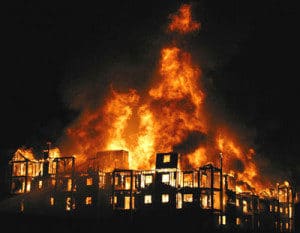 Authorities in Park Ridge NJ are investigating a possible arson incident at a local condo complex.
The condominium is located on North Maple Avenue in Park Ridge, New Jersey. According to local law enforcement officials, the Park Ridge Police Department got an emergency 911 call around 9:00 p.m. about a smoke detector going off in one of the units on the second floor of the building.
Park Ridge police officers and firefighters rushed to the scene, where they saw thick black smoke coming from the complex. It took Park Ridge NJ firefighters approximately one hour to stop the blaze. Other fire departments offered assistance, including departments in Emerson, Hillsdale, Montvale, Old Tappan, River Vale, Washington Township, Westwood, and Woodcliff Lake.
Fortunately, no one suffered any serious injuries as a result of the apartment fire. However, there was significant property damage to the building. The roof of the complex reportedly collapsed. Additionally, smoke and water damage to several apartments in the building meant that at least 50 people were temporarily homeless after the fire.
The Park Ridge Police Department and the Bergen County Prosecutor's Office Arson Unit are currently investigating the incident. If investigators determine that the fire was intentionally started, arson charges could be forthcoming.
For more information about this case, read the NJ.com article, "50 People Homeless After Park Ridge Condo Fire, Authorities Say."