New Milford Police Investigating Mischief Night Criminal Mischief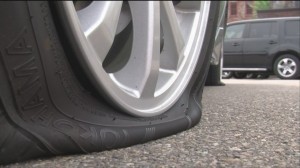 Criminal Mischief Charges in New Milford NJ
After a series of mischief night offenses resulting in significant damage to eight different vehicles, officials from the New Milford Police Department have asked for the public's assistance in identifying the individual or individuals responsible for these crimes.
According to New Milford Police Detective Lieutenant Frank Ramaci, the tires of eight vehicles were slashed between 10:00 p.m. and 12:00 a.m., beginning on the notorious night before Halloween. The perpetrator or perpetrators caused property damage amounting to thousands of dollars and will likely face charges for criminal mischief if ultimately identified.
In New Jersey, criminal mischief charges vary in terms of severity based on the monetary value of the property allegedly damaged. For example, defendants accused of causing over $2,000 in property damage are subject to third degree felony charges, will those who allegedly cause property damage amounting to $500 or less will be charged with a disorderly persons offense.
The degree of the charges against an individual are of great importance, as they are the primary determinant of the severity of the potential penalties if he or she is found guilty. For instance, disorderly persons offenses are punishable by up to six months in the county jail, while a conviction for a third degree crime can result in a 3-to-5 year term in New Jersey State Prison.
Additionally, the degree of the charges may have a dramatic effect on the amount of the fine that a person could be sentenced to pay in a given case, depending on the specific crime for which he or she has been accused. Hypothetically, if police identify and charge a person or persons in connection with this series of incidents, they could be forced to pay a fine of up to $15,000 if convicted.
Arrested for Criminal Mischief in New Milford NJ and Need Lawyer? Call Us Now
For more information, access the following article: New Milford police seek public's help solving Mischief Night tire-slashing spree