New Alcotest Breathalyzer to be Used in NJ DWI Cases
Police in New Jersey will now use a new version of the Alcotest Breath Testing Device to determine Blood Alcohol Concentration in Suspected Drunk Drivers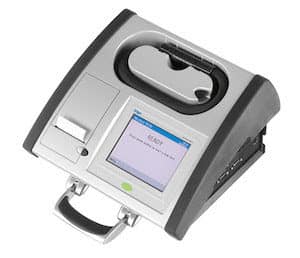 New Jersey recently adopted a measure to replace the current Alcotest breathalyzer machine used in DWI cases throughout the state. Until now, police have been using the Alcotest 7110 MKIII-C manufactured by Draeger Industries to administer a breath test to a person suspected of driving while intoxicated. Under the new rule, law enforcement officers will be using the Alcotest 9510, also manufactured by Draeger Industries.
This measure, Rule 50 N.J.R. 1818(c), was approved by Attorney General Gurbir S. Grewal on June 27 and took effect on August 6. Police departments will be allowed to use the Alcotest 7110 MKIII as an approved device until they implement the new version. There has yet to be a deadline placed on departments for switching over to the new breathalyzer machine.
Notably, local police departments will bear the cost of the new breath testing device. In response to the financial burden municipalities will face, the Department of Law and Public Safety said they investigated the options and the replacement parts needed for the Alcotest 7110 MKIII are no longer available through the manufacturer. So why does a new breathalyzer matter to New Jersey drivers?
Alcotest & Blood Alcohol for New Jersey DWI Charges
One of the critical issues surrounding breath testing devices is their accuracy and reliability when determining blood alcohol concentration (BAC). In New Jersey, a person is considered driving while intoxicated if they operate a motor vehicle with a BAC of 0.08% or higher. But how does the State prove a person was, in fact, driving drunk? This is where the breath test comes in.
To show that a person is guilty of a per se violation for driving while intoxicated (DWI), prosecutors generally use the breathalyzer results as a main form of evidence. However, there has been much debate surrounding the scientific reliability and accuracy of these instruments for determining blood alcohol level. In 2008, the New Jersey Supreme Court made a significant ruling in State v. Chun that the Alcotest 7110 MKIII-C is generally scientifically reliable if certain calibration and operation procedures are followed.
The exacting requirements for using the Alcotest 7110 MKIII-C provide an opportunity for an experienced DWI lawyer to challenge the validity of the breath test results in a drunk driving case. For example, police officers must complete training and certification on the breath testing machine in order to use it to test blood alcohol concentration. If an officer's certification has lapsed or expired, the breathalyzer results may be deemed inadmissible in court. Also, if they improperly administer the test or fail to follow one of the essential steps in the breath testing process, your lawyer may be able to have the test results thrown out of evidence.
In addition, the foundational documents for the Alcotest machine are extensive. As part of the "discovery" or evidence in your DWI case, police must provide calibration records, solution change reports, any repair records, and any instances in which the breath testing machine had to be sent back to manufacturer for testing. Travis J. Tormey, an Alcotest Certified DWI Defense Attorney, can investigate every aspect of these documents to find issues that may be used to invalidate the reliability of the breath test results in your DWI case.
Questions about the Breathalyzer in Your NJ DWI Case?
The DWI defense lawyers at The Tormey Law Firm have assisted thousands of clients charged with driving under the influence of alcohol and drugs in New Jersey. Our firm concentrates on criminal and DWI law in NJ so we can better attack the State's case against you. We also have a former DWI prosecutor, Alcotest certified DWI lawyer, and former New Jersey State Trooper as part of our formidable legal team. For additional information about the Alcotest and how it may apply to your DWI charges, contact us at (201)-556-1570. An experienced NJ DWI attorney is available immediately to provide you with a free consultation.