Man Charged with Numerous Drugs and Weapons Offenses in New Milford, NJ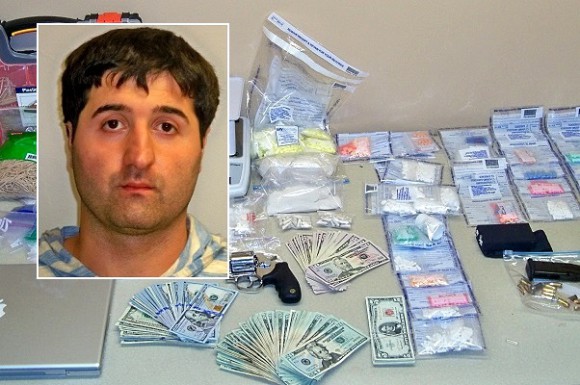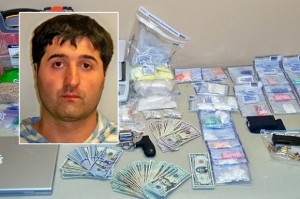 Officers from the New Milford and Bergen County Police Departments recently arrested an undocumented Russian man who is now facing a myriad of drugs and weapons charges, when a routine traffic stop for speeding led to searches of the man's vehicle and his residence, during which police allegedly discovered prescription drugs, guns, and other illegal items.
According to New Milford Police Chief Frank Papapietro, a detective first noticed 29-year-old Dim Akopian participating in what he believed to be a drug transaction on Friday, June 6th. Another officer stopped Akopian shortly therafter for allegedly speeding and driving carelessly on Reichelt Road at approximately 10:30 p.m. Police reported that Akopian was behaving suspiciously, at which time they searched his person and contacted the Bergen County Police Department's Drug Enforcement Unit for additional assistance.
After a dog from the K-9 Unit detected drugs in the vicinity, Akopian consented to a search of his vehicle. Police then recovered a variety of prescription drugs and other controlled dangerous substances, as well as a handgun and $4,550 in cash. Per reports, Oxycodone, Viagra, hydrochloride, alprazolam, amphetamine, hydrocodone, buspirone hydrochloride, morphine, and clear capsules containing what officials believe to be "Molly," were among the substances seized as a result of the search.
The investigation continued, as police obtained a search warrant for Akopian's residence, which led to additional findings, including weapons, ammunition, drugs, and counterfeit prescription blanks. Specifically, investigators retrieved an unregistered .44-caliber revolver, a stun gun, hollow point bullets, prescription drugs, cocaine, and Molly.
Akopian is now facing numerous charges, including those for multiple unlawful possession of a weapon offenses, eight drug possession offenses, prescription drug offenses, and possession of drug paraphernalia offenses. He was also charged with six counts of manufacturing, distributing or dispensing a controlled dangerous substance, forgery, and being in possession of weapons while in the course of committing a drug crime. Further, police issued him summonses for careless driving and possession of CDS in a motor vehicle.
The defendant is currently being held at the Bergen County Jail, with his bail set at $265,000. A conviction could subject him to a lengthy term of incarceration in New Jersey State Prison, as well as deportation upon completion of his sentence.
For more information pertaining to this case, access the following article: New Milford police say illegal Russian immigrant had gun, trove of pills, cocaine, Molly