Mahwah Man Charged with DUI & Assault by Auto, Bicyclist in Critical Condition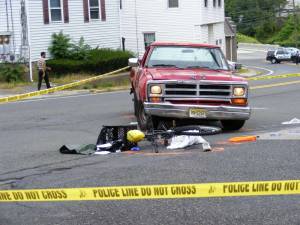 A man from Mahwah is facing charges for driving under the influence as well as assault by auto, following a recent accident during which he allegedly crashed his vehicle into a man riding a bicycle.
According to officials from the Bergen County Prosecutor's Office and the Chief James Batelli of the Mahwah Police Department, 64-year-old Mahwah resident Thomas Rinaldi is accused of driving a Dodge Ram truck while under the influence of alcohol or drugs on September 9th, at which time he struck a male victim riding a bicycle. Mahwah Police were notified of the accident at approximately 4:37 p.m. and immediately responded to the scene at the intersection of Ramapo Valley Road and North Railroad Avenue.
The bicyclist, 62-year-old Francisco Perez, was reportedly traveling home from his work prior to the incident. He sustained a significant head injury and was transported to St. Joseph's Regional Medical Center in Paterson in critical condition.
Officers at the scene subsequently questioned Rinaldi and conducted field sobriety tests, ultimately concluding that he was under the influence of either alcohol or drugs. Rinaldi was then arrested and issued a blood test to determine whether he was indeed under the influence, and if so, the particular substance involved. Authorities have indicated that they expect to receive the results of the toxicology analysis within six weeks.
In the meantime, Rinaldi has been charged with driving under the influence and assault by auto. He was released after posting the 10% option included in his $25,000 bail amount. With regard to the potential consequences to which he may be subject if he is found guilty in this case, assault by auto is considered a very serious crime in New Jersey, particularly in cases in which the defendant is accused of driving under the influence and the victim sustains serious bodily injury as a result of the accident.
N.J.S.A. 2C:12-1(c) specifies: "Assault by auto or vessel is a crime of the third degree if the person drives the vehicle while in violation of 39:4-50 or 39:4-50.4a and serious bodily injury results." (39:4-50 and 39:4-50.4a govern offenses for driving while intoxicated and driving under the influence). In addition to the penalties associated with these driving violations, which are contingent upon the circumstances of the specific case, Rinaldi could also be sentenced to a term of incarceration ranging from 3 to 5 years in New Jersey State Prison if convicted of the criminal charge for assault by auto.
For more information pertaining to this case, access the following article: Mahwah man arrested after truck hits bicyclist