Luccese crime family associate arrested for commercial burglaries in Garfield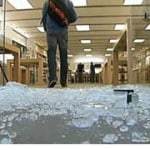 Garfield police arrested a man with connections to the Luccese crime family for his suspected role in a string of commercial burglaries recently in the area. Thirty-seven year old Gianni Iacova was arrested and charged with seven counts of burglary and various weapons charges and was held at the Bergen County Jail on $70,000 bail. He had previously plead guilty in 2011 to gambling related offenses in Morris County and was sentenced to probation.
According to Garfield police, the defendant was already a suspect in the string of burglaries when one officer observed him walking the streets at 12:45 a.m. last week. Officers quickly checked the area and found that the door to the Golden Eagle Deli on Lanza Avenue had been smashed in. The defendant was stopped by police and was found to be in possession of a claw hammer, screwdriver, flashlight, and a white powdery substance believed to be cocaine.
For additional information, please see the NJ.com article.