Little Ferry NJ Family Arrested, Charged with Distributing Oxycodone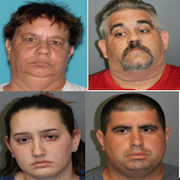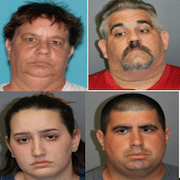 Four members of a Little Ferry NJ family were recently arrested and charged with prescription drug crimes.
The suspects include a 56-year-old Little Ferry woman and her three adult children. The kids include a 38-year-old man, a 34-year-old man, and a 21-year-old woman.
According to the Bergen County Prosecutor's Office, the suspects distributed Oxycodone in Little Ferry, New Jersey.
The Little Ferry Police Department and the Bergen County Prosecutor's Office investigated the suspects for several months after receiving reports of illegal drug activity. Detectives reportedly learned that the mother got Oxycodone pills through a prescription and then used her kids to illegally sell the prescription drugs.
Little Ferry NJ cops arrested three of the suspects – the three children – while they were allegedly engaged in the sale of 55 Oxycodone pills outside their residence.
The mother was placed under arrest later that same day.
After being arrested and processed, the suspects were released on their own recognizances. They will have to appear in court on May 17 to answer the criminal charges against them.
For additional information about this case, go to the NJ.com article, "This Whole Family Just Got Popped for Peddling Pills, Police Say."