Law Enforcement Combats Northern NJ Heroin Epidemic, Hundreds Arrested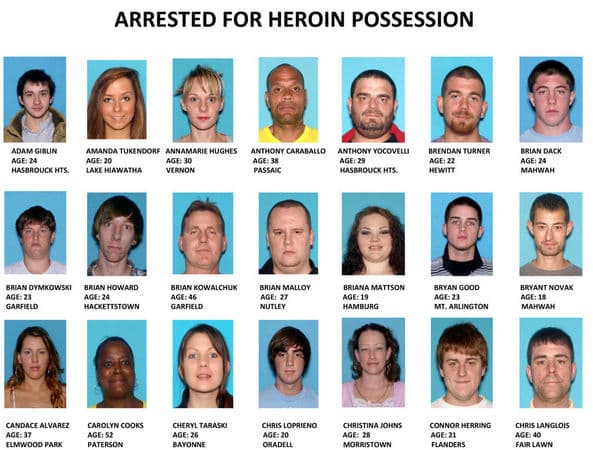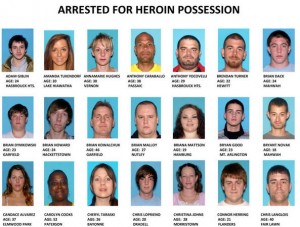 As law enforcement continues to battle the heroin epidemic currently plaguing northern New Jersey, over 300 have been arrested and charged with drug-related offenses over the past two months.
In a coordinated effort involving officials from Bergen, Passaic, Morris and Sussex counties and approximately 50 law enforcement agencies, a task force was assembled to conduct large-scale arrest operations stemming from the "open air" heroin market in Paterson. The ongoing campaign has resulted in 320 arrests thus far, 280 of which involve alleged heroin users, with 40 others for alleged heroin distribution.
In addition, investigators have recovered 11,794 bags of packaged heroin and 1,200 grams of raw heroin, the total street-value of which has been estimated at over $350,000. They also shut down two suspected heroin processing facilities and seized 32 guns and approximately $25,000.
In a press conference held on Tuesday, June 3rd, Bergen County Prosecutor John L. Molinelli announced that the arrests include 100 Bergen County residents, 180 Passaic County residents, and 40 Morris County residents. Among those arrested is a veteran who served in Afghanistan and a potential professional baseball player for the Philadelphia Phillies.
Molinelli also publicized a new initiative in Bergen County which may change the current court system's approach to heroin users. Although relatively minor drug offenses are typically downgraded to the municipal court in the county where the alleged offense occurred and may be resolved through diversionary programs like the Pre-Trial Intervention (PTI) Program, Molinelli outlined plans for a new court geared toward drug offenders which would provide resources for rehabilitation. Additionally, he noted that these charges may be eligible for dismissal after two or three years.
As it stands, the defendants charged recently could be facing penalties ranging from community service to a 20-year term of incarceration in New Jersey State Prison, depending on the specific offense for which they have been charged and the degree of the charges.
For more information regarding this matter, access the following article: Hundreds arrested in North Jersey anti-heroin effort, Bergen prosecutor says