Half-naked drunk driver crashes into retaining wall and flees scene, Sparta police say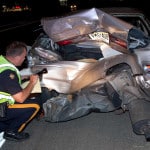 A drunk, almost completely naked woman crashed into a home's stone retaining wall early Friday morning, according to Sparta police. At almost 1:00 a.m., a local resident called the police to report an accident where a white Volkswagon Jetta crashed into a stone retaining wall and then fled the scene. Police located the vehicle and stopped it where they found a surprise. The driver, a 36-year-old woman, was wearing only an unzipped jacket and was completely disoriented. The driver denied being naked and had trouble getting dressed as she put her dress on, which was in the back seat, backwards. According to reports, she didn't remember being involved in an accident and she didn't know where she was going. She was arrested for drunk driving (DWI) and charged with DWI, refusal to submit to a breath test, leaving the scene of an accident, and careless driving.
For additional information, see the NJ.com article entitled, "Drunk driver didn't know she was naked, Sparta cops say".
Leaving the scene of an accident can be a criminal and/or motor vehicle violation in New Jersey. The motor vehicle violation is governed by N.J.S. 39:4-129 and can include the following penalties:
Damage only: First offense
Fine: $200.00 to $400.00
Jail: Up to thirty (30) days
License Suspension: Six (6) months
Points: Two (2) motor vehicle points
Damage only: Second offense
Fine: $400.00 to $600.00
Jail: Thirty (30) to Ninety (90) days
License Suspension: One (1) year
Points: Two (2) motor vehicle points
Personal Injury or Death
Fine: $2,500.00 to $5,000.00
Jail: 180 days in the county jail (if death or injury to another)
License Suspension: First offense, one (1) year license suspension; Second offense, permanent license forfeiture.
Points: Eight (8) motor vehicle points