Hackensack PNC bank on Route 17 robbed by armed man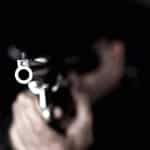 Hackensack police are looking for an armed bank robber who robbed a Route 17 bank last week. The PNC Bank on Route 17 was robbed on Friday at approximately 4 p.m. by a man at gunpoint. The suspect has been described as a black male wearing a scarf or a mask and who had a handgun, most likely a revolver. He brandished the firearm and demanded that all tellers empty their drawers and hand him the money. The amount of cash that was taken has yet to be determined.
According to the NJ.com article, "[t]he man, described as heavy-set and around six feet tall, fled out of the bank and into a small black vehicle, which fled in a southbound direction. At the time, he was wearing a black jacket over a gray hooded sweatshirt, black jeans and black shoes. Along with employees, one customer was inside at the time, none of whom were hurt."
Anyone with information is asked to contact the Hackensack police department immediately.