Fort Lee Weapons Case Results in 5-Year Prison Sentence for Defendant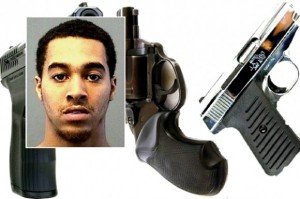 A man facing weapons charges out of Fort Lee was recently sentenced to a 5-year term of incarceration in Bergen County Superior Court after reaching an agreement with Bergen County prosecutors.
24-year-old Gary L. Workman, of Columbus, Ohio, was arrested in August of 2012 in connection with a weapons possession case involving three handguns. Officers from the Fort Lee Police Department arrested Workman and another man from Columbus when they were discovered with a 9mm FMK, a.380-caliber Jiminez, and a Charter Arms Undercover 38 Special.
After accepting a plea agreement from the Bergen County Prosecutor's Office, Workman pleaded guilty to unlawful possession of a weapon charges in exchange for a 5-year sentence in New Jersey State Prison as well as one year of probation following his release. As part of the agreement, prosecutors agreed to dismiss another fourth-degree possession charge involving armor-piercing bullets.
Workman will subject to a 16-month period of parole ineligibility per the sentence imposed by Bergen County Superior Court Judge Liliana DeAvila-Silebi on Friday, April 11th. As such, he will become eligible for parole in August of 2015.
In New Jersey, charges for Unlawful Possession of a Handgun are governed specifically under N.J.S.A. 2C:39-5(b). According to this statute, these offenses can be classified as crimes of the second or third degree. Accordingly, second degree crimes are punishable by a term of incarceration ranging from 5 to 10 years in New Jersey State Prison, while third degree crimes entail a term of imprisonment of up to 5 years.
In addition, violations involving subsections (a), (b), and (c) of N.J.S.A. 2C:39-5 (Unlawful Possession of a Weapon), are subject to sentencing under the "Graves Act," which requires those convicted of these offenses to serve a term of imprisonment with a minimum period of parole ineligibility fixed at, or between, one-third to one-half of a sentence imposed, or 3 years, whichever is greater.
For more information pertaining to this case, access the following article: Ohio man caught with three guns in Fort Lee could be free in 16 months