Flipped smart car in Wyckoff leads to DUI, Marijuana charges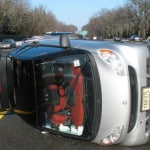 A smart car flipped over on Route 208 in Wyckoff earlier this month and the driver was subsequently arrested for driving under the influence (DUI) along with possession of marijuana under fifty (50) grams. According to police, the driver drifted out of his lane and hit the center barrier which caused his smart car to flip over on Route 208 in Wyckoff. Police arrived at the scene and detected an odor of marijuana and found a small amount of weed in the vehicle. The driver suffered minor injuries and was taken to the hospital where a blood sample was taken to determine if he was under the influence of drugs. He was charged with driving under the influence, reckless driving, possession of marijuana, and possession of drugs in a motor vehicle.
It is important to remember that the blood test alone is not dispositive in a case like this. Marijuana will show up in his system for approximately thirty (30) days after smoking the drug. As a result, a positive lab report which shows marijuana in his system does not prove that he was under the influence of marijuana at the time that he operated the motor vehicle. The State must prove this beyond a reasonable doubt in order to sustain the DUI charge. They typically use psychophysical tests and a drug recognition expert to show that he was under the influence of drugs at the time of the accident. They can also use any statements or admissions of the driver if he admitted to smoking prior to operating the vehicle.