Defendants Sentenced to Extended Terms after Bergen County Burglary Convictions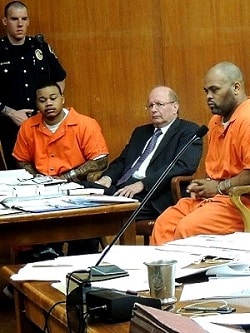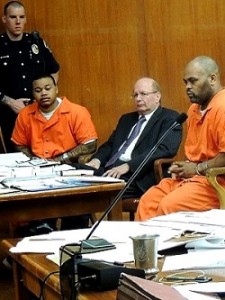 Two men allegedly connected to the James Bond Gang were recently sentenced in Bergen County Superior Court, after being convicted of numerous crimes committed in Nutley, New Jersey, including burglary and eluding.
According to Assistant Bergen County Prosecutor David Calviello, 40-year-old Englewood resident Dammen McDuffie and 24-year-old Hackensack resident Hakeem Chance, conspired to commit two separate burglaries at Nutley residences. The defendants subsequently fled the scene, compelling an extensive police chase involving officers from the Englewood, Fort Lee, Hackensack, and Teaneck police departments, as well as detectives from the Bergen County Prosecutor's Office.
McDuffie successfully eluded police at the time, but was ultimately identified with a driver's license photograph obtained through the NJ motor vehicle database. Chance, who was taken into custody shortly after the two crashed their vehicle in Montclair, was charged with crimes including burglary, reckless driving, leaving the scene of motor vehicle accident while creating a risk of death or injury, eluding, and eight counts of attempted assault on a police officer.
Following an 11-day trial in Bergen County Superior Court, a jury convicted both defendants of nearly all of the charges against them. Superior Court Judge Patrick J. Roma cited burglary crimes as a rampant issue plaguing Bergen County before issuing the defendants' sentences in court recently. During the hearing, Chance was sentenced to serve 17 ½ years in New Jersey State Prison, with an 8-year period of parole ineligibility. As for McDuffie, he received a 15 ½-year sentence, 7 ½ years of which he will be ineligible for parole.
Burglary offenses, which are governed under N.J.S.A. 2C:18-2, are typically classified as second or third degree crimes, punishable by a maximum term of 10 years in prison. In this case, both defendants received extended terms upon conviction, as they were both identified as persistent offenders.
Under N.J.S.A. 2C:44-3a:
"It is constitutional for a sentencing court to consider objective facts about a defendant's prior convictions (including out-of-state convictions), his/her age when the offenses were committed, and the elements and degrees of the offenses, in order to determine whether the statutory requirements for an extended term are satisfied."
Prosecutor Calviello noted McDuffie's extensive criminal record, which includes 20 convictions for felony-level offenses, and Chance's numerous felony convictions at such a young age in order to justify the State's request for extended sentences.
For more information pertaining to this case, access the following article: Two Bergen men with James Bond Gang ties sentenced in burglaries, wild police chase