Chatham Borough Man Sold Prescription Drugs Out of His Home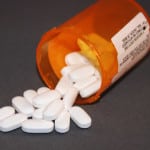 According to Chatham Borough police, a 36-year-old man was illegally selling prescription drugs out of his home.
On March 25, officers received a tip that Colin Knott was selling drugs from his home. This prompted police to begin watching the location.
On May 10, officers had enough information to arrest Mr. Knot. Among the drugs found in his home were Oxycodone, Roxicodone, Adderall, Xanax, and marijuana.
Mr. Knot was charged with distribution of a controlled dangerous substance, possession of a controlled dangerous substance with intent to distribute, possession of less than 50 grams of marijuana, and possession of drug paraphernalia, among other drug-related charges.
Because pharmaceuticals like Oxycodone and Adderall are considered "controlled dangerous substances" under N.J.S.A. 2C:35-10.5, Mr. Knot is subject to serious jail time and heavy fines. Depending on the number of pills found in his home, Mr. Knot could be looking at between five (5) and ten (10) years in state prison and a fine of up to $300,000.00.
Mr. Knott is being held on $25,000.00 bail (with no 10 percent option) at the Morris County Correctional Facility.
For more information, see the NJ.com article entitled "Man Sold Drugs Out Home, Chatham Borough Cops Say."