Brothers Accused of Burglaries in Cliffside Park, New Jersey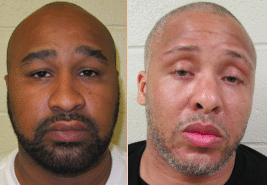 Police recently arrested two men who allegedly committed burglaries in Cliffside Park, New Jersey.
The burglary suspects are a 32-year-old Englewood NJ man and a 37-year-old Hackensack man. According to law enforcement, the two suspects are brothers.
The suspects allegedly broke into one Cliffside Park residence in April 2017 and another Cliffside Park residence in June 2017.
After the first burglary incident, law enforcement throughout New Jersey worked on an investigation. Police eventually captured the suspects when the two men reportedly drove a motor vehicle in a circle in a Cliffside Park NJ neighborhood. Not long after the car drove off, Cliffside Park detectives were called to the scene of a burglary on Washington Avenue.
Cliffside Park NJ police officers later pulled over the suspects' vehicle and placed the men under arrest.
Bergen County prosecutors charged the suspects with multiple counts of burglary and theft of movable property.
While awaiting a detention hearing, the suspects were being held at the Bergen County Jail in Hackensack, New Jersey.
For additional information about this case, read the NJ.com article, "2 Brothers Charged After Allegedly Burglarizing Homes."