Bergenfield Police Arrest Suspect in 19 Burglaries
Bergenfield Man Charged with 19 Counts of Burglary in NJ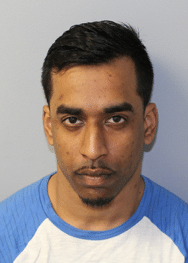 A man from Bergenfield, NJ faces burglary charges for 19 different break-ins in New Jersey. The suspect is 27-year-old Aaron Sukhdeo, a resident of Bergenfield in Bergen County, NJ. According to authorities, Sukhdeo burglarized 19 businesses in July, August, and September 2017. Sukhdeo allegedly broke into the businesses after they closed for the night and stole money from cash registers that had been stocked with money to use as change for customers when the businesses reopened in the morning.
The victimized businesses included multiple gas stations, a carpeting business, a rib restaurant, and a Burger King. Police officers nearly captured the culprit in the Burger King burglary, but he managed to elude police and get away. The burglary of another restaurant, Reilly's Rib Cage in Bergenfield, NJ, ultimately led police to Sukhdeo. That break-in was caught on surveillance video and later shared by Bergenfield police on social media, including Instagram. The video showed a man carrying a backpack and attempting to use a tool to open a drawer. Bergenfield investigators connected the backpack to several other burglaries and eventually tied them to Sukhdeo.
Jail Time for Burglary & Theft in Bergen County, New Jersey
Remarkably, Sukhdeo had just gotten out of jail when he was placed under arrest for the burglaries. He was incarcerated for driving without a license in New Jersey. Now he faces a much lengthier term of incarceration. That's because he's been charged with multiple felonies: 19 counts of burglary, 24 counts of attempted burglary, and numerous counts of theft of movable property and possession of burglary tools. He has also been charged with resisting arrest and obstruction of justice for allegedly eluding police after the Burger King burglary.
The burglary charges could lead to significant prison time. As set forth by N.J.S.A. 2C:18-2, burglary is typically classified as a third degree felony. A conviction for third degree burglary is punishable by a sentence of 3-5 years in NJ State Prison. This means that a conviction on even one count of burglary could result in Sukhdeo serving years behind bars.
While Sukhdeo awaits resolution of the theft and property crime charges against him, he's being held at the Bergen County Jail in Hackensack, New Jersey. Depending on the outcome of a detention hearing, he could potentially remain behind bars until trial or a plea deal is reached in his case.
Contact an Experienced Bergenfield Burglary Attorney Today
Travis J. Tormey is an experienced criminal attorney who defends clients against burglary charges in Bergenfield, Hackensack, Paramus, Fair Lawn, and everywhere else in Bergen County, New Jersey. If you've been charged with burglary, contact Attorney Tormey today to explore your options and start your defense.
Related Blogs: