Bergen County Trial: Some Charges Dismissed Due to Witness Misconduct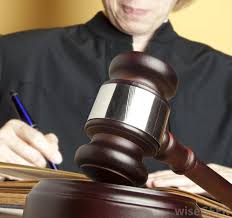 In an ongoing weapons and domestic violence case currently being heard in Bergen County Superior Court, the presiding judge recently dismissed a host of the charges against the defendant due to one witnesses' reported misconduct.
On Thursday, July 31st, the trial of Fort Lee resident Konstandin Bitzas took an unlikely turn, as Presiding Superior Court Judge Liliana DeAvila-Silebi dismissed a number of the charges with prejudice, citing the continued misconduct of witness Peggy Kalfaian as the cause. Judge DeAvila-Silebi held a private meeting with Kalfaian, at which time she reportedly explained to the witness that she was responsible for the Judge's ruling.
According to reports, Kalfaian had repeatedly referenced the alleged drug use of the defendant, who is not currently facing drug-related charges. The Judge determined that Kalfaian's continued inappropriate behavior after multiple warnings represented grounds for the dismissal of a number of the charges, which involved Kalfaian as the alleged victim.
As a result of the ruling, the following charges against Bitzas were dismissed: second degree illegal possession of a firearm, third degree terroristic threats, and fourth degree aggravated assault. He will be subject to a trial with the same jury for the remaining alleged offenses, which resulted in eight separate weapons charges.
Among the remaining crimes for which he is accused, Bitzas will face charges including: unlawful possession of a shotgun, unlawful possession of an assault firearm, unlawful possession of ammunition, and several "certain persons not to have weapons" offenses. The certain persons offenses arose from the fact that Bitzas had been previously convicted of a felony and as such, is not legally permitted to possess weapons under New Jersey Law.
If he so chooses, Bitzas can avoid another trial by accepting the current plea being offered by the Bergen County Prosecutor's Office. According to Assistant Bergen County Prosecutor Vered Adoni, the defendant has the option to accept a sentence of 5 years in New Jersey State Prison, 42 months of which must be served before he becomes eligible for parole. It remains to be seen whether Bitzas will choose to move forward with another trial or if he will accept the Prosecutor's offer, solidifying an outcome in this case or risking a conviction.
For more information pertaining to this case, access the following article: Gun trial shocker: Judge dismisses domestic violence charges against Fort Lee businessman after 'victim' misbehaves