Alleged Burglary Results in Rutherford Shoot-Out and Death of One Suspect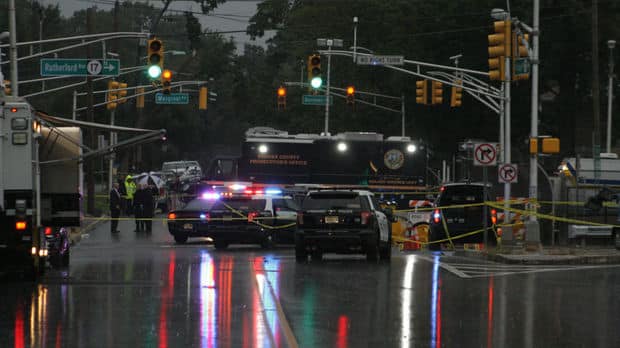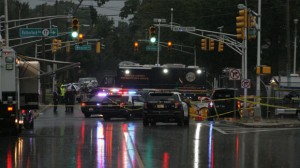 This morning, a reported burglary, followed by a police chase and shoot-out between officers and the alleged perpetrators, resulted in the shooting and subsequent death of one of suspect and the arrest of the other.
According to initial reports, a citizen contacted the North Arlington Police Department after allegedly witnessing two men attempting to break-into a Nissan SUV on Newell Place at approximately 2:15 a.m. Police then alerted surrounding law enforcement agencies of the incident, including a description of the vehicle provided by the eyewitness.
When officers from the Lyndhurst Police Department noticed the vehicle shortly thereafter, a police chase ensued, ultimately ending when the driver crashed into an overpass barrier on Ridge Road in Rutherford. An officer then parked behind the Nissan in order to prevent the suspects from fleeing, at which time a shoot-out began involving the vehicle's occupants, two Lyndhurst officers, and one state trooper.
Ultimately, one of the suspects was shot at approximately 3:00 a.m., while the other was taken into custody. The suspect who was shot died at approximately 7:05 a.m. at Hackensack University Medical Center according to Paul Loriquet, a spokesman for the New Jersey State Attorney General's Office.
Authorities are investigating the incident and have provided little information regarding the sequence of events involved in the shoot-out. However, they have disclosed that the Nissan was a stolen vehicle from Newark and that it was shot multiple times during the incident. The Attorney General's Office indicated that it remains unclear which of the officers was responsible for shooting the bullet that led to the suspect's death.
With regard to the other alleged offender, who remains unidentified, he or she is likely to be charged with burglary, among other offenses. In New Jersey, burglary charges are codified in N.J.S.A. 2C:18-2, and can be considered second or third degree crimes, per the alleged circumstances of the case. Specifically, burglary is classified as a second degree crime if the defendant is accused of inflicting, attempting to inflict, or threatening to inflict bodily injury on anyone, or if he or she is allegedly in possession of a weapon during the course of the offense. Otherwise, burglary is a third degree crime, punishable by a term of incarceration ranging from 3 to 5 years in New Jersey State Prison.
For more information pertaining to this incident, access the following articles:
– Police shoot man in Rutherford after reported car chase 
– Suspect dies after police shooting following car chase in Rutherford