Teaneck Police arrest juvenile for robbery of Dunkin' Donuts with pellet gun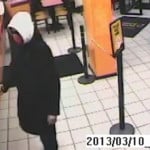 Teaneck police have arrested a 16-year-old juvenile for the alleged robbery of a local Dunkin' Donuts with a pellet gun, reports say. Police released photos and videos of the suspect who was recognized as a former student by a security guard at the Teaneck High School. This was confirmed by other independent sources and his name was provided to detectives working the case. The teen eventually turned himself in with his mother and an attorney.
According to the NJ.com article, "[t]he boy has been charged with first-degree armed robbery, possession of a weapon for an unlawful purpose, unlawful possession of a weapon and possession of a weapon by a minor. A search of his residence turned up a pellet gun, which police believed was the gun used in the robbery."
The juvenile was remanded to the Bergen County Detention Facility but has since been released with an electronic bracelet.