Over 60 Students Arrested after Teaneck High School Break-in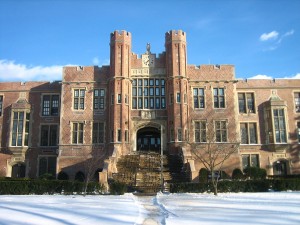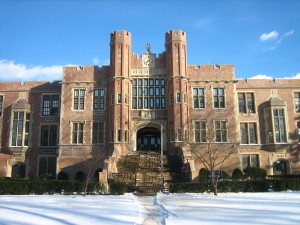 In what appears to be a senior prank involving breaking and entering and vandalism, over 60 students from Teaneck High School were arrested last night and are now facing charges for burglary and criminal mischief.
According to Robert Carney, Acting Police Chief at the Teaneck Police Department, the mass of students allegedly trespassed on school property at approximately 2:00 a.m., at which time they urinated in the school's hallways, wrote graffiti on the walls, and damaged classroom items including desks and chairs. Police say that the crimes resulted in severe destruction of school property.
Law enforcement officials from a myriad of agencies responded to the scene at approximately 2:11 a.m.  They included members of the Bergen County Sheriff's Office as well as officers from the Bergen County, Fort Lee, Palisades Park, Hackensack, Bergenfield, Cresskill, Ridgefield, Ridgefield Park, Bogota, Dumont, Englewood, New Milford, Glen Rock, Paramus, Englewood Cliffs and Palisades Interstate Parkway police departments.
Over the course of two hours, 62 Teaneck High School seniors were arrested, of which 38 are juveniles. All of those arrested are now facing charges for burglary and criminal mischief. The defendants who qualify as adults are scheduled to appear in the Teaneck Municipal Court before Judge James E. Young Jr., while the juveniles were issued delinquency complaints and released into the custody of their parents.
The students who have been charged as adults could face serious penalties if they are ultimately found guilty. In New Jersey, burglary offenses are governed under N.J.S.A. 2C:18-2, and can be classified as second or third degree crimes. In this case, the defendants have likely been charged with third degree offenses, which are punishable by a term of incarceration ranging from 3 to 5 years in New Jersey State Prison.
Third degree charges are considered indictable criminal offenses under the law, which means that they are adjudicated at the Superior Court in the county in which the alleged offense occurred. As such, the charges against the adult defendants will be transferred to the Bergen County Prosecutor's Office after their first appearances in Teaneck Municipal Court. At this point, the Prosecutor's Office will determine whether their cases will be heard in Superior or Municipal Court. The charges can be downgraded at the Prosecutor's discretion, which significantly impacts the penalties associated with a conviction.
For more information pertaining to this case, access the following articles:
More than 60 grabbed by police for trashing Teaneck High School
Teaneck High School senior prank leads to vandalism, arrest of more than 60 students