Intoxicated Ridgewood teen crashed into parked car, ran from police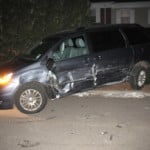 According to the Ridgewood patch, a 17-year-old Ridgewood teen was arrested and charged last week after allegedly crashing into a parked vehicle and then running when he was confronted by police.
"According to Ridgewood police, the youth's Buick Enclave slammed into a parked minivan on Woodland Avenue at around 11 p.m., knocking the minivan into a series of nearby trees. Instead of waiting for police, he allegedly ran home. Police said he was drunk at the time of the incident."
Upon being confronted by police, he led them on a brief foot chase. The defendant is charged with underage DWI, reckless driving, leaving the scene of an accident, failure to report an accident, among others. He is scheduled for court in Ridgewood on February 14.
It appears from the article that the 17-year-old was only charged with underage DWI and not adult DWI. This is a crucial distinction. On an underage DWI he is facing a maximum 90 day suspension of his driving privileges. On an adult DWI, he is facing up to a one-year suspension. Further, an underage DWI does not qualify as a DWI for any future issues. As a result, if he was ever charged with an adult DWI in the future, this would be considered his first offense. Based on the facts, his blood alcohol content (BAC) must have been under .08% (the legal limit) or he would have been charged with an adult DWI. If he has any alcohol in his system and he is under 21 years of age, on the other hand, he can be charged with underage DWI.