Garfield security guard at local school charged with carrying gun on the job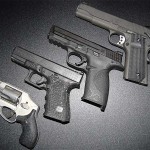 A 47-year-old security guard at a Garfield charter school has been arrested and charged with unlawul possession of a weapon after reports that he was carrying a gun while working at the school. Police received a call from an employee at the Bergen Art & Science Charter School claiming that the defendant had been armed while at the school. Police responded to the school and located the defendant who was not armed at the time. He also falsely reported to police that he was a retired law enforcement officer and that he was licensed to carry a weapon. In fact, he was never in law enforcement and he is not licensed to carry a weapon in New Jersey.
Police later located the weapon at his home in Passaic. He was charged with impersonating a police officer, possession of weapon without a permit, and possession of a weapon in an educational institution. He is being held at the Bergen County Jail in lieu of $75,000 bail.