Four Alleged Gang Members Charged After Fairview Murder, Robbery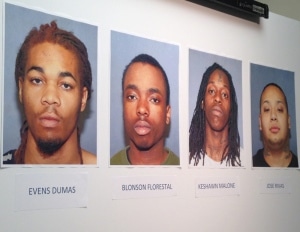 Four alleged gang members have been arrested in connection with a recent robbery and murder case in Fairview, New Jersey, which resulted in the death of one man. The defendants are facing a myriad of charges including murder, burglary, robbery, aggravated assault, and unlawful possession of a weapon.
According to Bergen County Prosecutor John Molinelli, 20-year-old Evens Dumas, 19-year-old Blonson Florestal, and 21-year-old Keshawn Malone, all of whom are from Irvington, as well as 25-year-old West New York resident Jose Rivas, were arrested on Monday, May 5th. The group is accused of breaking-into a man's apartment during an illegal card game on Saturday, May 3rd, at which time they assaulted multiple victims, killed 50-year old Jeronimo Lopez, and stole jewelry as well as $1,800.
Lopez, who was originally from Guatemala, was shot in the abdomen and subsequently died from his injuries at Hackensack University Medical Center. The victim's son, 29-year-old Erick Lopez, was in the apartment at the time, along with approximately 11 others. Erick denies that his father was well-known for hosting illegal card games at his apartment; however, authorities say that multiple sources have confirmed this.
In addition, Malone has allegedly targeted illegal card games in the past, establishing a pattern according to law enforcement. Investigators believe that Rivas, who was aware of the card games, informed Malone. Molinelli explained that illegal card games are often a potential target for criminal activity because the victims are less likely to report these incidents to police.
Dumas, Florestal, and Malone are allegedly members of the Sex Money Murder sect of the Bloods gang, with Malone believed to be their leader. Rivas is said to be a member of the MS-13 gang. All of the defendants have been charged with murder, armed burglary, armed robbery, aggravated assault and unlawful possession of a weapon. Specifically, the weapons charges are related to handguns allegedly used during the commission of the crime, but the weapons have not been discovered by investigators.
Each of the accused is being held on $2 million bail without a 10 percent bond option. They are scheduled to appear before Judge Liliana DeAvila-Silebi at 11 am. on Thursday, May 8th in the Bergen County Superior Court.
For more information pertaining to this case, access the following article: Reputed gang members charged in Fairview card game slaying