Fort Lee man charged with drug and weapon possession in Englewood after parking violation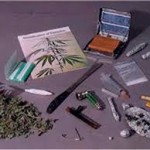 A 35-year-old Fort Lee man is in the Bergen County Jail after a dispute of a parking spot in Englewood leads to drug and weapons possession charges. The defendant walked out of the Rock Creek Terrace Housing Complex when he found a note on his car saying he parked in a prohibited area. He went to the administrative office to voice his concerns and proceeded to do $5,500 in damage to the office and the side of the building. The employees notified the police who issued a warrant for his arrest for the damage done. When he was apprehended by police, he was found to be in possession of marijuana, Oxycontin, Xanex, and a baseball bat.
The defendant was charged with terroristic threats, possession of marijuana with the intent to distribute, possession of a weapon, possession of drug paraphernalia and possession of controlled substances with intent to distribute. Additional counts were added because he had the drugs nearby a public housing complex, park and school. He is being held in the Bergen County Jail in lieu of $66,000 bail.