Field Sobriety Tests Accuracy for DUI in NJ
You Can Fail DWI Field Sobriety Tests Sober in New Jersey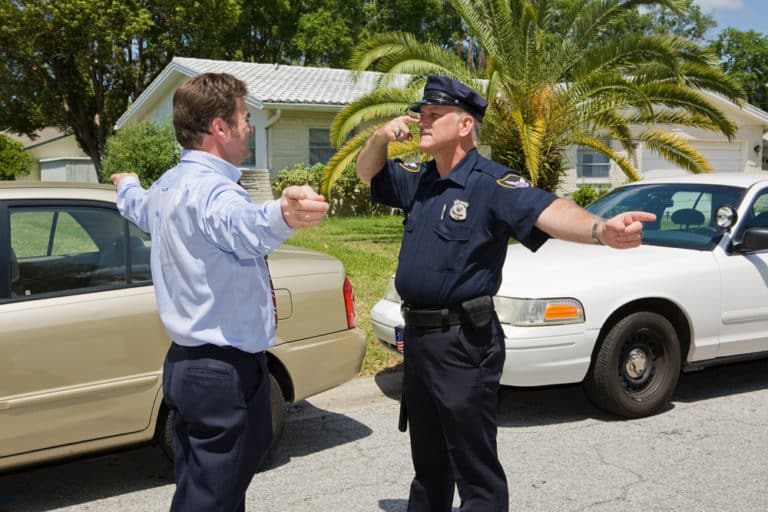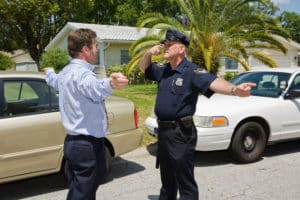 Most people have seen a suspected DWI driver walk the line or perform some other form of roadside field sobriety test, either on TV, in a movie, at a DWI checkpoint, or maybe even in the parking lot or on the side of the road, live and in-person. Officers administer these tests in New Jersey scores of times each day. But how accurate are they? There are important things you should know about the accuracy of the field sobriety tests that officers use when evaluating drivers in New Jersey. Also, there are a number of factors that can cause even a sober person to fail these tests when supposedly driving under the influence. If you have been charged with a DUI and you believe that the field sobriety tests may not be accurate, you should consult an experienced DWI defense lawyer who can examine the details of the case and determine if this may be a valid defense option. Our highly skilled DUI defense attorneys use field sobriety testing errors to get charges dismissed for clients throughout New Jersey, including in Lodi, Hackensack, Teaneck, Paramus, Fort Lee, and Morristown. Contact us for help with your case today. (201)-556-1570.
What are Field Sobriety Tests For?
Officers have used roadside field sobriety tests to help them determine whether someone has been driving under the influence of alcohol or drugs for decades. Field sobriety tests are designed to test whether an individual has the ability to perform what is known as a "divided attention task," or, in simpler terms, to determine whether drivers are too impaired by drugs or liquor to multitask. Why? Because driving is a divided attention task. While driving, you need to visually track your lane, work your blinker, depress your gas pedal, turn your steering wheel, check your mirrors, pay attention to your peripheral vision and check your blind spots before you merge, and scan the road for traffic signals, speed limit signs, approaching hazards, and a myriad of other potential obstacles. Drugs and alcohol have been shown to reduce your ability to keep all these divided attention tasks straight all at once, thereby making you a less safe driver than a someone driving sober. Field sobriety tests are supposed to replicate this multitasking environment and help an officer evaluate if you're okay to drive. That's the theory. But some people dispute how this theory plays out in practice.
Are Field Sobriety Tests Accurate?
The National Highway Traffic Safety Administration ("NHTSA") publishes instruction manuals for police that tell officers how they should administer field sobriety tests, what they should look for when you are performing the tests on the side of the road, and what "clues" your performance might provide as to whether you are too impaired to drive safely at the time of the test. NHTSA has "validated" three particular field sobriety tests and correlated them to a particular blood alcohol level; this means that NHTSA has assembled scientific research indicating that if you display a certain number of "clues" on these three field sobriety tests, an officer can establish a statistical probability as to whether you are too impaired to drive safely. The three validated field sobriety tests are the Walk and Turn test, the One Leg Stand test, and the Horizontal Gaze Nystagmus test, or "eye test" for short. During the Horizontal Gaze Nystagmus test, an officer moves a light in front of your face and watches to see if your eyes involuntarily shake as they track the light back and forth.
NHTSA studies have shown that if you show four clues on the eye test, there is an 88% chance that you have a BAC at or above .08 (the legal limit in New Jersey and throughout the United States). If you show two or more clues on the walk and turn test, there is a 79% chance that you are at .08 or above. And if you show 2 or more clues on the one leg stand, there is an 83% chance that you are at or above .08. Taken together, NHTSA's "validation" and "correlation" studies are widely viewed as being a reliable indicator of alcohol impairment at or above the .08 level. But there's a catch. The tests are only reliable if, and only if, the tests are properly administered and other variables have been ruled out.
Problems with Field Sobriety Tests
Field sobriety tests are not perfect tools for determining impairment. There are several factors that could make even a sober person display clues of impairment on these tests. These factors can lead to a "false positive" result, where a sober driver fails a test due to a flaw in the administration or interpretation of the test. For example, a rookie officer may not know how to properly explain the somewhat complicated set of instructions involved in the walk and turn test. Other errors with field sobriety testing occur when police hold the light too close to your face on the eye test or misinterpret how you perform and register clues when none existed.
Even more importantly, physical or mental impairments that are completely unrelated to drugs or alcohol can cause you to perform poorly on field sobriety tests. For example, you can fail field sobriety tests sober if:
You have a bad knee that makes it difficult for you to stand on one leg or walk a straight line
You have poor balance
You are overweight or unathletic
You are an older adult with physical effects from aging (for example, degenerated discs in your back)
You have a natural jerking of your eyes that is unrelated to alcohol
You are sleep-deprived
You are extremely nervous and thus unable to concentrate
Any number of these factors may throw off the results of your field sobriety test and make you appear impaired when you are not.
Failed a Field Sobriety Test Sober in NJ, Can a Lawyer Help?
If your defense attorney can establish that other facts may have influenced your performance on field sobriety tests, they may be able to successfully undermine the validity of the DUI charges in your case in court. You should discuss these and other potential defenses with an experienced NJ DWI attorney if you have been arrested for a DWI in New Jersey. Call (201)-556-1570 for a free consultation now. Our lawyers have achieved countless DWI dismissals on behalf of clients across NJ and we can help.