Englewood Police Arrest Man for Allegedly Stabbing His Housemate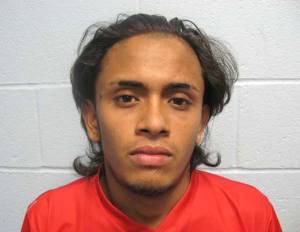 A man nearly lost his life after being stabbed in the heart at his Englewood home recently and authorities have arrested a fellow resident, who is believed to be responsible for the stabbing. The defendant is now facing charges for attempted murder as well as multiple weapons offenses in connection with the incident.
According to Detective Captain Timothy Torell of the Englewood Police Department, 23-year-old Jose Wilbur Hernandez, who is originally from El Salvador, was taken into custody shortly after police responded to a call received at 12:40 a.m. on Thursday, August 21st. Per reports, the 27-year-old victim, a resident of 242 West Palisade Avenue in Englewood, had been stabbed in the heart and was in critical condition when officers arrived at the scene.
Emergency medical personnel managed to stabilize the victim, who was subsequently transported to Hackensack University Medical Center and remains in critical condition. Police believe he was stabbed during a dispute with Hernandez; however, the cause of the argument has not been disclosed.
Hernandez was arrested near the house soon after on charges for attempted murder, unlawful possession of a weapon, and possession of a weapon for an unlawful purpose. He was being held at the Bergen County Jail, with his bail set at $500,000 and is facing extremely severe penalties if convicted.
The weapon involved in this case has been identified as a knife that was recovered at the scene. In New Jersey, unlawful possession of a weapon offenses are governed under N.J.S.A. 2C:39-5, which delineates the degree of the charges associated with specific weapons. According to this statute, knives are classified as "other weapons" under subsection (d) and these violations are considered fourth degree crimes.
Charges involving possession of a weapon for an unlawful purpose are codified in N.J.S.A. 2C:39-4, and are also divided into categories based on the weapon involved in the alleged crime. Notably, possession of a knife for an unlawful purpose is classified as a third degree crime, which warrants increased penalties when compared with a crime of the fourth degree.
While these weapons charges may result in a prison sentence if Hernandez is found guilty, the most serious crime for which he is accused is obviously attempted murder. Not only will he be subject to a term of incarceration ranging from 10 to 20 years in New Jersey State Prison if convicted, he will also be facing deportation upon completion of his sentence, as he is not a legal resident of the United States.
For more information pertaining to this case, access the following article: Englewood police ID suspect in stabbing attack