Leonia janitor charged with first degree murder of girlfriend and her five-year-old daughter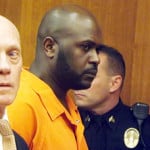 A 34-year-old Leonia janitor has been arrested and charged with the double murder of his girlfriend and her five (5) year-old daughter in Englewood last week. He was arraigned at the Bergen County Superior Court in Hackensack and plead "not guilty" to these charges. He is being held at the Bergen County Jail in lieu of $2 million bail.
According to reports, the defendant killed his girlfriend of three years during a heated argument where he stabbed her to death. Then, because her five year old daughter witnessed the murder, he suffocated her using a plastic bag. He then left and when the bodies were discovered acted as if he was shocked and upset by the findings.
The defendant is a native of Jamiaca but has been in the United States since he was ten years old. He was working as a janitor at Leonia Middle School. He is now facing two counts of first degree murder, one count of weapons possession, and one count of hindering apprehension.