Legal secretary admits to stealing $53,000 from Hackensack law firm; Plea calls for 364 days in the county jail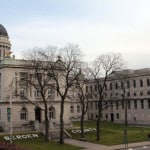 A Hackensack legal secretary plead guilty earlier this month to stealing $53,000 from her employer, a local Hackensack law firm. The 52-year-old woman plead guilty to third degree theft by deception as part of a plea agreement with the Bergen County Prosecutor's Office. The charges alleged that the defendant issued five checks from the law firm's business account to her own personal account from December 2010 to June 2011. The investigation also revealed that she forger her employer's signature on the checks.
The plea agreement is for probation, conditioned upon her serving 364 days in the Bergen County Jail. Further, she is required to pay back $53,380 to the Hackensack law firm as restitution for the money she stole. Typically, on a 364 day jail sentence, the defendant will serve about half of that time before being released. A defendant agrees to a county jail sentence in order to avoid a state prison sentence.