Chester Cops Use K-9 Unit to Catch Man with Three Pounds of Pot, Marijuana Candy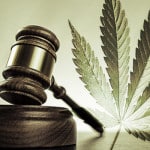 Last week, Chester cops arrested Robert Kenney Jr. and confiscated more than three (3) pounds of marijuana and marijuana candy from his vehicle.
The long process of arresting and charging Mr. Kenney began last Monday, when a Chester police officer stopped a motor vehicle near the entrance to Chester Mall. The officer spoke with Mr. Kenney and smelled marijuana emanating from Mr. Kenney's car.
The officer called for backup, which included a K-9 unit brought in to provide a "narcotic odor sniff." Later, the police impounded Mr. Kenney's vehicle and applied to a Morris County Superior Court Judge for a search warrant.
On Wednesday, police officers officially executed the search warrant and found more than three (3) pounds of marijuana and marijuana candy inside Mr. Kenney's car. Mr. Kenney was then arrested and transported to Morris County Correctional Facility.
Mr. Kenney faces many criminal charges, including intent to distribute marijuana, marijuana possession, and possession of drug paraphernalia.
Intent to distribute marijuana is proscribed by N.J.S.A. 2C:35-5, which prohibits a person from distributing a controlled dangerous substance such as marijuana. Mr. Kenney is charged with intent to distribute less than five (5) pounds of marijuana, so the charge against him is likely to be classified as a third degree felony. This means that a conviction could land Mr. Kenney in jail for up to five (5) years.
For more information, see the NJ.com article entitled "Man Had 3 Pounds of Pot and Marijuana Candy, Chester Cops Say."